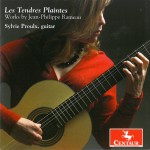 Les Tendres Plaintes: Works by Jean-Philippe Rameau (Centaur CRC 3603) is the second solo CD from Canadian guitarist Sylvie Proulx; it's a collection of transcriptions, mostly of dance movements, from harpsichord suites by the leading French Baroque composer.
Three of the transcriptions, including the title track, are by Proulx, with the remaining 12 being by other guitarists including John Duarte and Andrés Segovia. Given the inherent difficulties in transcribing harpsichord music for guitar – the reduced range, the unavoidability of playing fewer notes, and in particular the handling of ornamentation – everything here works extremely well, helped no doubt by the guitar's greater capabilities for expressive playing.
Proulx's performances are clean and clearly defined, with a complete absence of extraneous noise and a lovely range of colour, tone and contrast. It's terrific playing.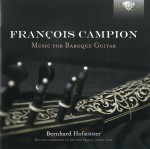 There's more excellent – and fascinating – guitar playing on François Campion Music for Baroque Guitar (Brilliant Classics 95276), with Bernhard Hofstötter playing a Baroque guitar attributed to Matteo Sellas of Venice, from about 1640.
The colour booklet photos show an astonishingly beautiful instrument. It's a five-course guitar, tuned the same as the top five strings of the modern guitar, with the top E a single string and the other four doubled, either in unison (A, G and B strings) or at the lower octave (D string).
In 1705 Campion published one of the last five-course guitar books, and continued to add handwritten pieces to his own personal copy throughout his life. These manuscript pieces often exceeded the published works in size and difficulty, and form the basis of this recital.
In the excellent booklet Hofstötter remarks on the instrument's "…full-bodied and velvety dark sound which radically differs from comparable modern instruments" and is "round, fully resonating and at the same time subtle and fragile." It's exactly that. Hofstötter is a lutenist, and it shows; the sound here seems like a bridge between the lute and the classical guitar. It's meticulously clean playing of some very intricate and technically demanding music – the Bach-like fugues and dance forms in particular – and a simply fascinating CD.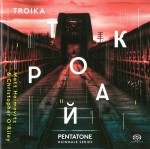 Whenever you see a 2CD box set from the wonderful cello and piano duo of Matt Haimovitz and Christopher O'Riley you know you're in for something special, and so it proves with Troika, their latest release of Russian music by Shostakovich, Prokofiev and Rachmaninoff on the Pentatone Oxingale Series label (PTC 5186 608).
CD1 is devoted to Shostakovich and Prokofiev, with the former's Waltz No.2 and Cello Sonata in D Minor Op.40 and the latter's Troika from Lieutenant Kijé and Cello Sonata in C Major Op.119.
CD2 has Rachmaninoff's Cello Sonata in G Minor Op.19 and his famous Vocalise before the duo takes a customary left turn into contemporary Russian music with two of their own arrangements: Kukushka, by the singer-songwriter Victor Tsoi; and Pussy Riot's Punk Prayer – Virgin Mary, Put Putin Away, complete with Haimovitz's use of a glass slide on the strings and a crushed Styrofoam cup behind the bridge to achieve some grunge punk bass distortion!
The duo's arrangement of Lennon & McCartney's Back in the U.S.S.R. completes a terrific set.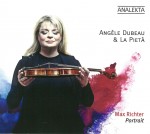 Angèle Dubeau and La Pietà are back with another CD in their Portrait series, this time featuring music by Max Richter, who has been particularly active in film, theatre and television (Analekta AN 2 8745).
Previous Portrait CDs featured Philip Glass, Arvo Pärt, John Adams and Ludovico Einaudi, and Dubeau says that the more she listens to composers gravitating around the minimalist movement the more she wants to interpret their music: "I enjoy the moments of introspection that these works bring."
Those moments are possibly the result of the lack of any real development: each of the 16 short pieces here (15 are less than five minutes) essentially sets a mood and keeps it, with little opportunity for anything other than "Here's an idea…"
Apart from the really lovely Mercy for solo violin and piano, and Winter II, recomposed by Richter from Vivaldi's The Four Seasons, all tracks are arrangements by François Vallières and Dubeau of pieces from Richter's solo albums Memoryhouse, The Blue Notebooks – Disconnect, Songs From Before and From Sleep, the films Waltz with Bashir and Perfect Sense, and the television scores for The Leftovers and Black Mirror-Nosedive.
As always, playing and recording standards are absolutely top-notch. It's essentially easy, pleasant – and, yes, introspective – listening that will be warmly welcomed by Dubeau's many regular admirers.
Violinist Nuné Melik makes an impressive recording debut with the CD Hidden Treasure: Rediscovered Music from Armenia with pianist Michel-Alexandres Broekaert (DOM Forlane FOR 16886 domdisques.com).
Born in Siberia of Armenian/Georgian/Jewish heritage, Melik moved to Montreal in 2009 and began to explore the music of composers from her upbringing; this recital program grew out of the resulting Hidden Treasure project. Judging by her playing here, it's clearly been an emotional and rewarding journey.
The central work on the disc is the Violin Sonata in B-flat Minor by Arno Babadjanian, written in Russia in 1959 and criticized as "formalist" by the Soviet authorities. Babadjanian's close friend Dmitri Shostakovich thought highly of it, and his influence is clearly felt; there are hints of Prokofiev in the slow movement, too.
Lovely short pieces by Komitas Vardapet, Aram Khachaturian and Alexander Spendiarian complete the disc. There's passionate, rhapsodic playing from Melik and sympathetic support from Broekaert, who also has a short solo.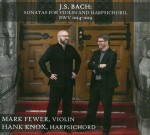 J.S. Bach: Sonatas for Violin and Harpsichord BWV 1014-1019 with violinist Mark Fewer and Hank Knox (Leaf Music LM 216) is the third set of these works I've received in recent years, following the outstanding releases from Catherine Manson and Ton Koopman (harpsichord) and the Duo Concertante pairing of Nancy Dahn and Timothy Steeves (piano).
Although there is accomplished playing here the harpsichord is prominent and rather heavy, and its lack of dynamic range tends to give the performances a somewhat mechanical feel, with the violin sounding more like a separate voice than an integrated partner. Koopman's sound is much softer and much more attuned to Manson's playing.
There are occasional significant differences in interpretation too, notably in the Adagio of the F minor sonata, where Fewer – unlike Manson and Dahn – opts to separate and shorten the eighth note double-stops.
As always, it comes down to personal taste. If you prefer these works strong and bright and with harpsichord there is much here you will enjoy, although Manson and Koopman and Duo Concertante both offer more sensitive readings.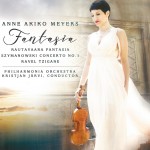 Fantasia is the 35th studio album from violin superstar Anne Akiko Meyers, this time with the Philharmonia Orchestra conducted by Kristjan Järvi (Avie Records AV2385). The title track is by the Finnish composer Einojuhani Rautavaara, written in 2015 at the request of Meyers, who worked on it with the composer in Helsinki only months before his death in July 2016. Meyers describes it as "transcendent" and having "the feeling of an elegy with a very personal reflective mood." It's a lovely work that clearly has great emotional significance for her.
The Violin Concerto No.1 Op.35 by Karol Szymanowski dates from 1916, and was one of the first works to reflect the life-changing influence of his 1914 trips to North Africa and to Paris, where he met Debussy and Ravel. It's a simply glorious single-movement work full of sensuous and exotic melody and lush orchestration, and with an extremely demanding solo part that rarely leaves the stratosphere.
Ravel's dazzling Tzigane, in the orchestral version, completes a simply outstanding CD.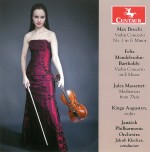 In the old LP days the Bruch and Mendelssohn Violin Concertos were frequent companions, and the tradition continues on a new CD from the Polish-born violinist Kinga Augustyn, with the Janáček Philharmonia Orchestra under Jakub Klecker (Centaur CRC 3585).
The Bruch Concerto No.1 in G Minor has a lovely opening, with Augustyn displaying a big, bright tone. Tempos are never rushed, and there is beautiful orchestral support.
The performance of the Mendelssohn Concerto in E Minor follows the same pattern, with unhurried tempos, accuracy in the details and some lovely orchestral moments. There's sweetness and warmth in the playing, but never a hint of superficiality: these are thoughtful performances that bring delightful playing from all concerned.
Massenet's Meditation from Thaïs is the final track, and again it's a performance that leans toward the understated – a sensitive, simple reading with great depth that makes for a very effective ending to an impressive CD.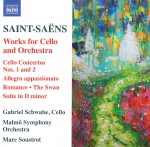 The outstanding German cellist Gabriel Schwabe is the soloist in the complete Saint-Saëns Works for Cello and Orchestra with the Malmö Symphony Orchestra under Marc Soustrot (Naxos 8.573737).
The two Cello Concertos – No.1 in A Minor, Op.33 and No.2 in D Minor, Op.119 – are the major works here, although the lesser-known five-movement Suite in D Minor, Op.16bis from 1919 has much to recommend it. It was written for cello and piano and later orchestrated by the composer, as were the two other short works here: the Romance in F Major, Op.36 and the Allegro appassionato in B Minor, Op.43. Paul Vidal's orchestration of The Swan from Carnival of the Animals completes the CD.
With his great tone and terrific technique Schwabe easily negotiates the difficult challenges of the second concerto, with some particularly lovely playing in the simply beautiful central Andante sostenuto. There is fine orchestral support from Soustrot and the Malmö orchestra. All in all, an outstanding disc.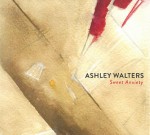 There's cello playing at the complete opposite end of the spectrum on Sweet Anxiety, the first solo CD from the American cellist Ashley Walters featuring new works for cello from 2002-2013 (populist records PR014 populistrecords.com). Walters says that she seeks "to challenge your perception of what the cello… is capable of," and she certainly succeeds.
Nicholas Deyoe provides two tracks: For Stephanie (on our wedding day) and the title track another anxiety, the latter drawing some astonishing playing from Walters. Luciano Berio's Sequenza XIV is predominantly percussive; it's heard here in a performing edition created by Walters.
Wolfgang von Schweinitz's Plainsound-Litany is a hypnotic sequence of precisely tuned double stops; Wadada Leo Smith's Sweet Bay Magnolia with Berry Clusters includes improvisational sequences. Andrew McIntosh's Another Secular Calvinist Creed provides a serene, contemplative end to the recital.
Walters is simply brilliant throughout the disc, and the short printed examples of the scores (other than the Berio) give some idea of the challenges she faced.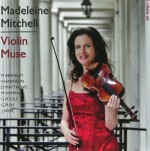 On Violin Muse the British violinist Madeleine Mitchell presents a program of world premiere recordings of works by British composers (Divine Art dda 25160).
The major work here is the two-movement Violin Concerto "Soft Stillness" by Welsh composer Guto Pryderi Puw, commissioned by Mitchell and heard in a live BBC Radio recording from 2016. It's an effective piece, with Mitchell accompanied by the BBC National Orchestra of Wales under Edwin Outwater.
Mitchell is joined by Cerys Jones in Judith Weir's delightful Atlantic Drift – Three pieces for two violins, based on Gaelic folk tunes.
Pianist Nigel Clayton is the accompanist in the remaining works: Geoffrey Poole's Rhapsody; David Matthews' Romanza Op.119a; Sadie Harrison's lovely Aurea Luce; Michael Berkeley's Veilleuse; and Michael Nyman's Taking it as Read.
There's excellent playing throughout by all concerned.