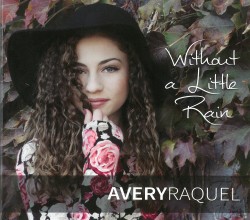 Without a Little Rain
Avery Raquel
Independent GKM 1029 (averyraquel.com)
Review
On her sophomore recording, young vocalist Avery Raquel has not only created a satisfying follow-up to her 2016 debut but has matured into a fine, contemporary songwriter. Collaborating with producer, arranger and musician Greg Kavanagh (and vocalist Sophia Perlman), Raquel has co-authored six tracks, and in so doing, has established her own, unique voice as both a composer and singer – no easy trick.
Joining Raquel and Kavanagh (who plays guitar on this project) is a strong lineup of musicians, including Adrean Farrugia on acoustic and electric piano, Ross MacIntyre on bass, Joel Haynes on drums, Ben Lemma on guitar, Amoy Levy on backing vocals, Kaelin Murphy on trumpet/flugelhorn, Brandon Tse on alto sax, Emma Haynes on percussion and special guest, the iconic David Clayton-Thomas (of Blood, Sweat & Tears) on the Disney classic from Toy Story, You've Got a Friend in Me – which is a fresh, jazzy, soulful take on this Disney standard, featuring excellent bass work on this track by Jaden Raso.
Other notable tracks include the catchy and engaging title tune, Without a Little Rain; the funky Your Mouth Is the Door, which not only boasts a clever lyric, but displays Raquel's vocal power and control as the song builds in intensity. Without question, Dreaming (co-written with Perlman) is one of the strongest compositions on the recording – not overly arranged, as well as rhythmic and appealing, the song seamlessly highlights the lovely gossamer lightness of Raquel's vocal quality. Sophisticated chord voicings and wonderful flugelhorn work by Murphy are the icing on this irresistible cake.
Concert Notes: Avery Raquel has a busy schedule this summer with performances June 11: Barrie Jazz Festival – Bradford West Gwillimbury Public Library; June 24: Children of the Forest Fundraiser – The Duke Live, Toronto; June 29: Music on the Waterfront – Hamilton; July 20: Summer Concert Series – Goderich; July 22: Jazz at the Museum – Haliburton; August 19: South Coast Jazz Festival – Port Dover; and August 20: Riverfest – Elora.