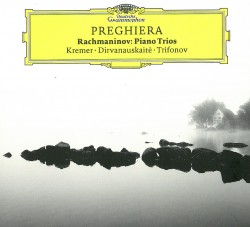 PREGHIERA Rachmaninov: Piano Trios
Gidon Kremer, Giedrė Dirvanauskaitė, Daniil Trifonov
Deutsche Grammophon 479 6979

Review
The following review is an excerpt from Strings Attached (May 2017) which can be read in its entirety here.
Another terrific Deutsche Grammophon CD, PREGHIERA Rachmaninov: Piano Trios features outstanding playing by violinist Gidon Kremer (celebrating his 70th birthday with this release), cellist Giedrė Dirvanauskaitė and pianist Daniil Trifonov (479 6979).
The CD's title is taken from the opening track, Fritz Kreisler's Preghiera, a violin and piano collaboration between Kreisler and Rachmaninoff that reworked the Adagio sostenuto from the composer's Piano Concerto No.2. It's a short but beautiful work that serves as an effective curtain-raiser to the two piano trio works.
Dedicated to "the memory of a great artist," the Trio élégiaque No.2 in D Minor was Rachmaninoff's response to the death of Tchaikovsky, whom he revered; it was started on the very day of Tchaikovsky's death in 1893. Rachmaninoff said that all his thoughts, feelings and powers were devoted to it, that he tormented himself the entire time and was "ill in spirit." Those sentiments are certainly reflected in the music, for this is a large-scale work written in what the booklet notes call "a musical idiom of almost unbridled emotionality." The performance here is outstanding, perfectly capturing the melancholy and passion of the work and with a particularly ravishing piano sound.
The Trio élégiaque No.1 in G Minor is a short, one-movement student work that again features a prominent role for the piano and that offers more than a hint of Rachmaninoff's mature elegiac style. Another fine performance rounds out a top-notch CD.