Review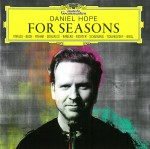 For Seasons is the new CD from violinist Daniel Hope with the Zurich Chamber Orchestra and 11 individual collaborators (Deutsche Grammophon 479 6922). The album's title is carefully chosen, as the disc contains not only Hope's first recording of Vivaldi's Four Seasons but also 12 short pieces linked to the months of the year, a concept Hope came up with 20 years ago and which he calls a very personal celebration of the seasons.
It's fascinating to see how the Vivaldi concertos retain their freshness despite what seems like a neverending series of new recordings. The performances here are simply lovely – crisp, clean and warm, with some brilliant playing from Hope and an excellent continuo sound from the harpsichord, theorbo and baroque guitar. It's another terrific interpretation to add to the already extensive list.
The rest of the CD is an absolute delight, although the connections with the months of the year – if they exist at all – are somewhat tenuous. Only Aphex Twin's Avril 14th, Tchaikovsky's June, Chilly Gonzales' Les doutes d'août and Kurt Weill's September Song are specifically linked to the appropriate month, with the remainder of the brief tracks apparently intended to convey the feelings and emotions associated with the changing seasons.
No matter, for they're all real winners, with the January of Nils Frahm's beautiful Ambre and the December of Chilly Gonzales' Wintermezzo framing music by Rameau, Max Richter, Robert Schumann, Bach and his contemporary Johann Molter, and a particularly striking improvisation on Amazing Grace with Dom Bouffard on electric guitar. The Zurich Chamber Orchestra provides the accompaniment on four of the tracks. Hope's lovely solo violin arrangement of Brahms' Lullaby, Guten Abend, gut' Nacht, provides a beautiful close to an outstanding CD.
The CD booklet, incidentally, includes the accompanying artwork produced by 12 visual artists in response "to the music and to the seasons" in Hope's For Seasons project.
Review
Another terrific Deutsche Grammophon CD, PREGHIERA Rachmaninov: Piano Trios features outstanding playing by violinist Gidon Kremer (celebrating his 70th birthday with this release), cellist Giedrė Dirvanauskaitė and pianist Daniil Trifonov (479 6979).
The CD's title is taken from the opening track, Fritz Kreisler's Preghiera, a violin and piano collaboration between Kreisler and Rachmaninoff that reworked the Adagio sostenuto from the composer's Piano Concerto No.2. It's a short but beautiful work that serves as an effective curtain-raiser to the two piano trio works.
Dedicated to "the memory of a great artist," the Trio élégiaque No.2 in D Minor was Rachmaninoff's response to the death of Tchaikovsky, whom he revered; it was started on the very day of Tchaikovsky's death in 1893. Rachmaninoff said that all his thoughts, feelings and powers were devoted to it, that he tormented himself the entire time and was "ill in spirit." Those sentiments are certainly reflected in the music, for this is a large-scale work written in what the booklet notes call "a musical idiom of almost unbridled emotionality." The performance here is outstanding, perfectly capturing the melancholy and passion of the work and with a particularly ravishing piano sound.
The Trio élégiaque No.1 in G Minor is a short, one-movement student work that again features a prominent role for the piano and that offers more than a hint of Rachmaninoff's mature elegiac style. Another fine performance rounds out a top-notch CD.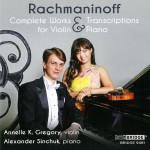 The Kreisler Preghiera turns up again in Rachmaninoff Complete Works & Transcriptions for Violin & Piano, a simply stunning CD from the American violinist Annelle K. Gregory and the Russian pianist Alexander Sinchuk (Bridge 9481).
From the opening bars of the Romance in A Minor, a very early student work when the composer was scarcely into his teens, it's clear that this is going to be a very special album. Gregory has a quite gorgeous tone, is absolutely secure technically and plays with power, richness and assurance. Sinchuk matches her every step of the way.
And what music this is to display such deeply glowing and emotional playing! Given that 17 of the 20 tracks are arrangements or transcriptions it feels like Rachmaninoff's Greatest Bits at times, but with performances like these, who cares? Rachmaninoff wrote only three pieces for violin and piano – the opening unpublished track, which remained unknown until 1951, and the Deux Morceaux de Salon Op.6; of the transcriptions here from other sources six are by Jascha Heifetz and five are by Fritz Kreisler.
The Preghiera is perhaps a bit more rhapsodic than Kremer's version, the latter's feeling more like the prayer suggested by the title, but both are simply beautiful interpretations. There's a lovely Vocalise in an arrangement by the early-20th-century Russian-American violinist Mikhail Press, whose students included the legendary Dorothy DeLay, and Kreisler's transcription of the 18th Variation from the Rhapsody on a Theme of Paganini brings a dazzling CD to an end.
There is more superb string playing on Divertimenti, the new CD from the Miller-Porfiris Duo (millerporfirisduo.org) of violinist Anton Miller and violist Rita Porfiris featuring duos by Robert Fuchs, Ernst Toch and Bohuslav Martinů. The players, who met at Juilliard over 20 years ago, have been playing together since 2005, and you would have to go a long way to hear better duet playing than this.
Fuchs died in 1927, and consequently did not experience the growing Nazi influence in Austria in the 1930s. His students included Erich Korngold and Alexander Zemlinsky (both of whom fled Nazi Europe for the United States) and Gustav Mahler. His 12 Duette Op.60 date from 1898, when Fuchs was on the faculty of the Vienna Conservatory, and are beautifully crafted short pieces redolent of Vienna in the years before the Great War.
Toch was born in Vienna and entered Fuchs' composition classes at the Conservatory in 1900 at the age of 12. He emigrated to the United States in 1934, settling in Los Angeles and writing numerous film scores. His Divertimento Op.37 No.2 for Violin and Viola is a short (under ten minutes) three-movement work with a brilliant Vivace molto that packs a real punch. Porfiris quite rightly notes the work's "expressive dissonance and frenetic energy."
Martinů also emigrated to the United States, in his case in 1941 after being blacklisted by the Nazis in France. He was successful in America, but never really felt happy or settled, finally returning to Europe in 1956. His Duo No.2 for Violin and Viola H.331 was written in 1950, and is a bright, melodic three-movement work with decided Czech rhythms.
Miller and Porfiris are in great form throughout the CD, both playing with a warm, rich tone and with a clarity, spirit and brightness that serves these delightful works perfectly.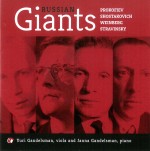 The husband and wife team of violist Yuri Gandelsman and pianist Janna Gandelsman are the performers on Russian Giants, a CD of works by Sergei Prokofiev, Dmitri Shostakovich, Mieczysław Weinberg and Igor Stravinsky (Blue Griffin BGR 413).
Prokofiev's Suite from Romeo and Juliet is a selection of six short pieces from the composer's Ten Pieces from "Romeo and Juliet" Op.75 for solo piano, which was extracted from the ballet score between its composition in 1935 and its premiere in 1938; the transcriptions for viola and piano were made by Prokofiev's contemporary Vadim Borisovsky, the founding violist of the famed Beethoven Quartet.
Shostakovich's Sonata for Viola and Piano Op.147 was the last work the composer completed, mostly written in his hospital bed as he lay dying of lung cancer in the summer of 1975. Replete with references to the composer's own works as well as to those of other composers, the music belies Shostakovich's weakened physical condition, its harmonic ambiguity finally resolving with a quiet C-Major ending that the composer called "radiance."
Weinberg was a close friend of Shostakovich and much influenced by him; indeed, his 1945 Sonata for Clarinet and Piano Op.28, heard here in its official viola version, makes specific references to the latter's music in the opening movement. Weinberg's Jewish heritage is clearly felt in the middle movement.
Stravinsky's brief Elegy for Solo Viola was written in 1944 on a commission from the Pro Arte Quartet violist Germain Prévost in memory of the group's founding first violinist Alphonse Onnou, who had died earlier that year.
There is fine playing throughout the CD from both players, although the tone of Gandelsman's1748 Paolo Testore viola doesn't seem to have quite the dynamic range that it did on his 2012 Hindemith CD. Balance and recorded sound are excellent.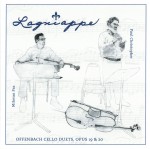 Lagniappe! (the Louisiana Cajun French word for a bonus gift or something extra) is the seventh volume in the series of Offenbach Cello Duets from Human Metronome (humanmetronome.com), this one featuring the Duets Op.19 Nos.1-3 and Op.20 Nos.1-3 in performances by Paul Christopher and his student Milovan Paz (HMP 107-2016).
Offenbach was a virtuoso cellist who earned his living as a performer before establishing himself as a composer. He produced three sets of cello duets, usually of increasing technical difficulty: Op.19-21 and 34 (École de Violoncelle); Op.49-54 (Cours méthodique); and Op.78. The complete Op.49-54 was covered in five of the first six CDs – the final volume was reviewed in this column last September – with Op.21 being included on a separate volume. Christopher notes that they haven't yet found all of the music for Op.34, so there may well be an eighth CD in the future. I can't find any mention of a recording of Op.78 anywhere.
Don't be misled or discouraged by the use of titles like School and Method: these works may have had pedagogical intent behind their composition, but they are full of the melodic invention and beauty that made Offenbach's operettas such a success, and can – and should – stand alone as concert recital pieces.
Christopher and Paz play as superbly and have as much fun as they did on the previous volume, where Christopher said that he felt the duets "transcend their original purpose and are the high water mark for the cello duets genre." Everything here continues to support that view.
This whole series adds up to a pure delight for cellists of all ages and abilities.