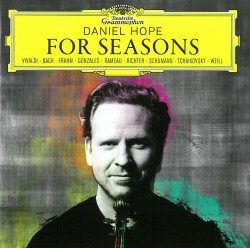 For Seasons
Daniel Hope; Zurich Chamber Orchestra
Deutsche Grammophon 479 6922
Review
The following review is an excerpt from Strings Attached (May 2017) which can be read in its entirety here.
For Seasons is the new CD from violinist Daniel Hope with the Zurich Chamber Orchestra and 11 individual collaborators (Deutsche Grammophon 479 6922). The album's title is carefully chosen, as the disc contains not only Hope's first recording of Vivaldi's Four Seasons but also 12 short pieces linked to the months of the year, a concept Hope came up with 20 years ago and which he calls a very personal celebration of the seasons.
It's fascinating to see how the Vivaldi concertos retain their freshness despite what seems like a neverending series of new recordings. The performances here are simply lovely – crisp, clean and warm, with some brilliant playing from Hope and an excellent continuo sound from the harpsichord, theorbo and baroque guitar. It's another terrific interpretation to add to the already extensive list.
The rest of the CD is an absolute delight, although the connections with the months of the year – if they exist at all – are somewhat tenuous. Only Aphex Twin's Avril 14th, Tchaikovsky's June, Chilly Gonzales' Les doutes d'août and Kurt Weill's September Song are specifically linked to the appropriate month, with the remainder of the brief tracks apparently intended to convey the feelings and emotions associated with the changing seasons.
No matter, for they're all real winners, with the January of Nils Frahm's beautiful Ambre and the December of Chilly Gonzales' Wintermezzo framing music by Rameau, Max Richter, Robert Schumann, Bach and his contemporary Johann Molter, and a particularly striking improvisation on Amazing Grace with Dom Bouffard on electric guitar. The Zurich Chamber Orchestra provides the accompaniment on four of the tracks. Hope's lovely solo violin arrangement of Brahms' Lullaby, Guten Abend, gut' Nacht, provides a beautiful close to an outstanding CD.
The CD booklet, incidentally, includes the accompanying artwork produced by 12 visual artists in response "to the music and to the seasons" in Hope's For Seasons project.