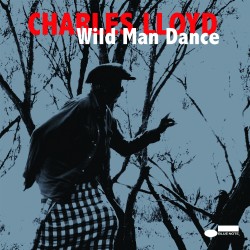 Wild Man Dance
Charles Lloyd
Blue Note B002243302 (bluenote.com)
Review
Charles Lloyd achieved tremendous success in the 1960s as the first jazz musician to bridge the gap between the new jazz and the new rock audience, combining strong melodies and hypnotic modal improvisations with a tenor saxophone sound that could traverse the ground between the hard metallic brilliance of John Coltrane and the airy sound of Stan Getz. In the decades since, Lloyd has sometimes taken extended leaves from public performance, but the lyric depth of his music only develops further. It's clearly apparent in the six-part
Wild Man Dance Suite
commissioned by the Jazztopad Festival in Wroclaw, Poland and recorded there in November 2013.
Lloyd's focus on sonority takes on fresh significance here as he expands his usual quartet to include two European masters, Sokratis Sinopoulos, playing a Greek bowed lyra, and Miklos Lukacs on a cimbalom, the Hungarian form of a hammered dulcimer. The themes are everywhere enriched by the vernacular instruments, each adding a certain brilliance to the group sound and a certain resonance to the melodies. It's apparent immediately on River which is further highlighted by Lukacs' glittering solo and the way his lines dovetail with Gerald Clayton's rippling piano. There's also a special concordance between Lloyd's tenor saxophone and Sinopoulos' cello-like timbre. Lloyd achieves a flute-like delicacy on Invitation, while Lark will suggest Coltrane's Crescent in its meditative depth.
Folk inspirations fuel the band's long, open modal improvisations, propelled forward by bassist Joe Sanders and drummer Gerald Cleaver's surging rhythms. At 75 minutes, it's a long suite, but inspiration seldom flags.