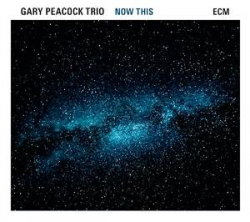 Now This
Gary Peacock Trio
ECM 2428
Review
Gary Peacock may be best known today as a longstanding member of Keith Jarrett's Standards Trio, but the bassist, now 80, has one of the most varied and distinguished résumés in jazz. In his long career, he's complemented everything from the concentrated lyricism of Miles Davis, Bill Evans and Paul Bley to the torrential expressionism of Albert Ayler; he's also one of the great bass soloists, able to communicate emotional nuance with a special attention to vibrato and pitch. Here Peacock leads a trio with pianist Marc Copland and drummer Joey Baron in which his own musical conception is in the foreground.
Peacock composed seven of the eleven compositions here, many of them with a spare, sculptural, yet mysterious sense of form that generates tremendous freedom: brief phrases with myriad suggestions pass from one member of the group to another with a liquid ease. There's a suite-like continuity here, as if the pieces constitute reflections on a single theme, their moods ranging from the drama of Moor to the levity of Christa and the brooding Vignette. The music's surface is consistently beautiful, with Peacock's sound a warm centre for the three voices.
The only piece included from outside the band is Gloria's Step, a composition contributed to Bill Evans' repertoire by Peacock's friend, Scott LaFaro, the brilliant bassist who changed the course of the instrument before dying in a car accident at 25 in 1961. As well as an homage to lost genius, it marks the beginnings of the kind of fully interactive trio music that Peacock, Copland and Byron realize here.