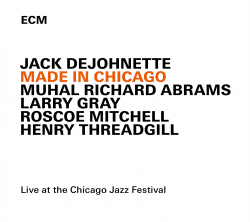 Made in Chicago
Jack DeJohnette
ECM 2392 (ecmrecords.com)
Review
Jack DeJohnette first came to prominence in the late 1960s as the drummer in Charles Lloyd's quartet and later Miles Davis' pioneering fusion bands. He's since cemented his fame with his own groups and his three-decade membership in the Standards Trio with Keith Jarrett. His roots, however, reach back to Chicago's Wilson Junior College where in 1962 he began jamming with classmates and saxophonists Roscoe Mitchell and Henry Threadgill. Soon they were playing in pianist Muhal Richard Abrams' Experimental Band and were present at the 1965 formation of The Association for the Advancement of Creative Musicians (AACM), a dramatic assertion of African-American musical freedom and self-sufficiency.
The title Made in Chicago is multi-dimensional: it commemorates the reunion of DeJohnette, Mitchell, Threadgill and Abrams (joined by the younger Larry Gray on bass and cello); it celebrates the diversity of AACM music; and it marks its literal venue, the 2013 Chicago Jazz Festival. It is, simply, a great band, evident from the first composition, Mitchell's Chant, a work that places the repeating patterns of American minimalism in a kind of pan-African setting, from circular-breathing saxophone stretched beyond the tempered scale to DeJohnette's dense, sonically rich drumming.
Each work that follows is similarly an exercise in shaping, its raw materials examined and extended into forceful musical statement, like the emotion-drenched invocation of Abrams' multi-faceted Jack 5 and DeJohnette's own Museum of Time. Mitchell's This presses toward chamber music, with its Bartók-like harmonic language and the lighter textures of flutes and arco cello. Throughout, there's a sense of spacious invention and collective mastery, the music growing from a kind of spontaneous deliberation.