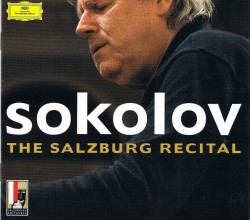 Sokolov – The Salzburg Recital
Grigory Sokolov
Deutsche Grammophon 4794342
Review
New recordings of Grigory Sokolov are few and far between, so any
addition to the catalogue
is an event. His playing is always compelling, not least because of his unique approach. He is a link to the golden age of Russian pianists and his distinctive playing style is easily identified by his admirers.
Sokolov began piano studies at the age of five and gave his first major recital in Moscow at 12 playing, so it is reported, works by Bach, Beethoven, Schumann, Chopin, Mendelssohn, Rachmaninov, Scriabin, Liszt, Debussy and Shostakovich. He was unanimously awarded the Gold Medal in the 1966 International Tchaikovsky Piano Competition.
Now aged 64 and "a legend in his own lifetime," he is in a position to announce that "I play only what I want to play." His Mozart, though slow, is never laboured or ponderous, being extremely controlled; the long phrases are felt out with utmost certainty in spite of an almost dry approach and contained dynamics. This is utterly compelling Mozart, a perfect example of restraint yielding deeply satisfying results. A dissenting opinion from that of other artists but Mozart's mercurial genius allows for this.
This recital of Chopin's 24 Preludes would be one of my desert island discs. In keeping with his way, each of the 24 has an individual character and taken together they are a marvel of authority and subtlety. I compared these to his June 17, 1990 Paris recording (Naïve CD, OP30336) finding that it lacked the deeply introspective and mesmerizing intensity of this astonishing Salzburg performance.
The six encores (Chopin, Scriabin, Rameau and Bach) are no less considered. This is the first release from DG which has contracted to record his live concerts.