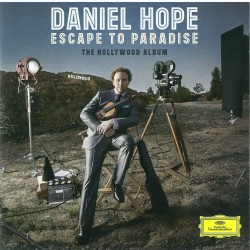 Escape to Paradise: The Hollywood Album
Daniel Hope
Deutsche Grammophon 4792954
This review is an excerpt from Strings Attached November 2014.
Review
The title of violinist Daniel Hope's new CD, Escape to Paradise: The Hollywood Album (Deutsche Grammophon 4792954), is a bit misleading. Hope's focus is on composers who escaped from Hitler's Europe to the warmth of the Hollywood movie scene, but there's non-Hollywood music here from pre-and post-war Germany – including a Korngold work from 1908 – as well as non-escapee music from second-generation Hollywood composers like John Williams and Ennio Morricone.
Hope and the Royal Stockholm Philharmonic Orchestra under Alexander Shelley display a big Hollywood tone right from the opening notes of Miklós Rózsa's Love Theme from Ben Hur, and carry the same style into the major work on the disc, Erich Korngold's Violin Concerto Op.35; the concerto was built around themes from Korngold's Hollywood movie scores. It's a fine performance of a lovely work.
The remainder of the CD is given over to 14 short pieces, most of them arrangements; five are for duo or chamber ensemble, including three that feature members of the Deutsches Kammerorchester Berlin. Ex-Police frontman Sting sings his own lyrics (replacing Berthold Brecht's!) to a song from Hanns Eisler's Hollywood Liederbuch, and German singer Max Raabe contributes a flat (unfortunately in both meanings of the word) performance of Kurt Weill's Speak Low.
The best tracks are those for soloist and orchestra, including the themes from Rózsa's El Cid, Morricone's Nuovo Cinema Paradiso, Williams' Schindler's List and Thomas Newman's American Beauty. The disc ends with a slow, low-key and really quite odd solo violin arrangement of As Time Goes By.
The CD is a strange mixture in many ways; some moments resonate less than others, and the vocal tracks in particular seem more like intrusions than contributions, but Hope's playing is stylish and of a very high standard throughout. Editor's Note: Alexander Shelley succeeds Pinchas Zukerman as conductor of the National Arts Centre Orchestra in September 2015.