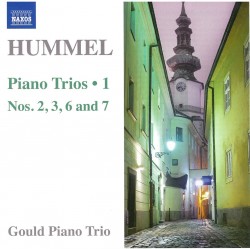 Hummel – Piano Trios 1
Gould Piano Trio
Naxos 8.573098
Review
Johann Nepomuk Hummel (1778-1837) was an influential composer, virtuoso piano performer and a well-known teacher during his lifetime. He was a student of many famous teachers: Clementi, Mozart, Albrechtsberger, Salieri and Haydn. His friends included Beethoven, Schubert and Goethe. He wrote beautiful music, mostly for piano, but also explored other less popular instruments (such as trumpet and guitar), and made Weimar a European musical capital while he was active there. Hummel's musical aesthetics were founded on a classical model of clean lines and balanced melodies, at a time that was giving birth to a new wave of bravura piano players and general discontent with musical conventions. The world's obsession with the romantic ideals could be the main reason why Hummel's music was forgotten after his death.
The piano trios on this recording were written over the span of 15 years and feature all the elements of the classical style but also offer a wealth of melodies and fresh musical ideas. Each trio, for example, features a Rondo as the concluding movement, but each Rondo comes with its own style, whether borrowing motifs from Turkish or Russian musical traditions or introducing scherzo elements and surprising modulations.
The Gould Piano Trio (Lucy Gould, violin, Alice Neary, cello, and Benjamin Frith, piano) clearly enjoys bringing this somewhat forgotten music to life. Most impressive are the nuanced articulation in the violin and balanced phrasing of the ensemble. This recording will be greatly appreciated by fans of the classical period who just might discover a new voice.