Characteristically adventurous, the 17th annual Guelph Jazz Festival (GJF) September 8 to 12 presents respected sound explorers in novel musical situations.
Probably the most notable GJF visitor this year is American trombonist/composer George Lewis. On September 11 he's part of a trio with pianist Muhal Richard Abrams and multi-reedist Roscoe Mitchell on a double bill at the River Run Centre with the Sangam ensemble. Additionally throughout the festival, the MacDonald-Stewart Arts Centre hosts Ikons, which integrates computer software, created by Lewis, with Eric Metcalfe's sculptures that reflect visitors' movements. Sour Mash, with Lewis and sound designer Marina Rosenfeld on duelling laptops, is an example of Lewis' software programming, while More News For Lulu exhibits his trombone skill with guitarist Bill Frisell and alto saxophonist John Zorn.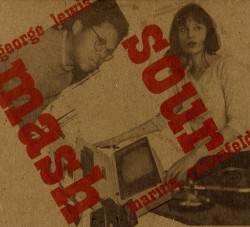 Similar to Ikons, Sour Mash (Innova 228 www.innova.mu) features looped textures which alter each time the composition is performed. On this version there's no separation between the two creators' input(s). Interspaced with episodes of sampled footfalls, mumbling voices and slide-whistle-like vibrations, the piece's focus is on the sonic contrasts produced as both programs evolve simultaneously and languidly. Simmering and shimmying, buzzing sequences, blurry crackles and speedy whooshes share space with wind-chime-like pealing, watery bubbling and abrasive rustles. Defined with flanges and granulation, the processes evolve so that linkage is apparent, but with enough unexpected pauses, drones and beeps to keep the ever-shifting texture fascinating.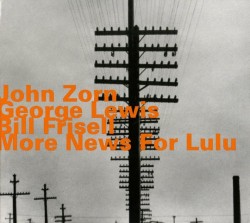 Equally fascinating is More News For Lulu (hatOLOGY 655 www.hathut.com). Here the trio provides an explicitly POMO take on 14 Hard Bop classics. Kenny Dorham's Lotus Blossom for instance is reconstituted as Frisell's gentle picking finally succumbs to the pressure from Zorn's screeching altissimo runs and tongue slaps to introduce guitar neck-hand-tapping and amplifier buzzes. Meanwhile Lewis concentrates on a tremolo retelling of the head, which is eventually recapped by all three. Similarly Hank Mobley's Peckin' Time evolves in triple counterpoint with the saxophonist's agitated lines mated with the trombonist's moderato vibrations while the guitarist's steady chording propels the narrative. Lewis' strategy on other tunes such as John Patton's Minor Swing consists of providing a huffing contrapuntal ostinato over which Zorn's screeches thrust intensely. Braying upwards the trombonist eventually corners Frisell's double-timed licks and the saxophonist's split tones so that all three lines converge.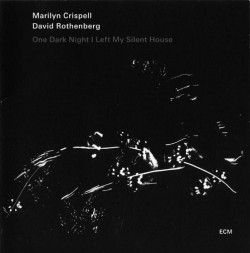 The pianism missing from the aforementioned CD is present on One Dark Night I Left My Silent House (ECM 2089 www.ecmrecords.com), which matches pianist Marilyn Crispell with clarinettist David Rothenberg. Crispell plays solo in Co-operators Hall September 11. Here she tries various sonic strategies to partner Rothenberg, a philosopher/naturalist interested in bird songs. While no tone is wholeheartedly onomatopoeic, aviary allusions abound. On Still Life with Woodpeckers for example, Crispell strokes the piano's inner strings and hits the instrument's backboard and bottom frame with percussive taps as the clarinettist flutter-tongues and chirps daintily. In contrast, on The Hawk and the Mouse, she sweeps across, plucks and strikes the strings as Rothenberg circles her cadences with growling obbligatos, snorts, honks and tongue slaps. Committed for the most part to parallel improvising, the two emphasize tonal connections. That's why the moderato and andante Evocation references Impressionism, with the low-pitched reed line and the low-key octave patterning create what could be a neo-classical étude.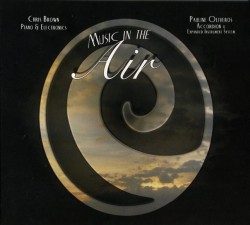 A so-called classical composer of the electro-acoustic variety, accordionist Pauline Oliveros plays twice at the GJF. On September 8, in Rozanski Hall, she and trio of Guelph musicians perform simultaneously via a telematic link with other improvisers in Bogotá, Colombia and Troy, N.Y. Then on September 11 at a yoga centre, Oliveros' accordion timbres are transformed by using Expanded Instrument System (EIS) computer software. Examples of both her musical cooperation and programming skills show up on Music in the Air (Deep Listening DL 43-2010 www.deeplistening.org). Here EIS and signal processing mutate the sounds from Oliveros' conch shell, percussion and accordion plus Chris Brown's piano. Recorded in real-time without overdubs, tracks such as Trohosphere demonstrate how granular synthesis comments on and alters the piano's speedy glissandi plus slippery accordion smears. Spread across the audio surface, processed signals contrapuntally change the piano's dynamics as well as adjust accordion timbres to staccato and dissonant. When auxiliary bellow pumps enter the mix alongside a flat-line conch drone, Brown almost replicates a formal composition, so intent is he on maintaining harmonic patterns without raising the volume. With the modifications sometimes depicting variants of previously sampled timbres, sharp string slaps and key pumps provide live tonal additions. Eventually the dense interface is resolved as quivering voltage ramps slide downwards, introducing octave jumps and pressure from both keyboards.