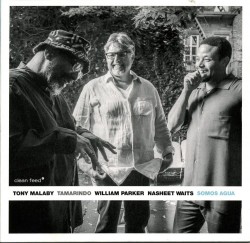 Somos Agua
Tony Malaby: Tamarindo
Clean Feed CF 304 CD (cleanfeed-records.com)
An essay on the intricacies of saxophone improvisation, New York tenor man Tony Malaby explores every nuance of reed sounds on this matchless session, backed only by the four-square pacing of William Parker's double bass and the rhythmic flow of drummer Nasheet Waits. Reminiscent of similar trio tours-de-force by Sonny Rollins and Joe Henderson, the seven selections make up a suite whose parts flow logically and seamlessly into one another. At the same time, Malaby's solos confirm his experimental credo by exposing as many split tones and screeches as emotive flutters and gentling tones.
Never losing sight of the tonal even as his solo explorations appear to produce aural x-rays of his horn's insides, on the title track the saxophonist's output is unhurried and relaxed enough to reference the initial theme, even as his dense multiphonics squeeze the last atom of sound out of his horn. Parker's power stops or sensitive bowing, plus Waits' crunches and clatters, aptly second the saxophone flights. Nonetheless, the most edifying example of the Tamarindo trio's game plan is the 14-minute Can't Find You. Despite the title, there's never a moment when the drummer's intuitive cymbal splashes or drum colours aren't on track as Malaby stretches stratospheric altissimo cries into slim variations which are finally reconstituted as a powerful narrative. Framing the journey, Parker's thick stops eventually become supple, supportive strums. With this defining saxophone CD under his belt, it will be instructive to see how Malaby intersects with the local three-saxophones-three-rhythm Kayos Theory sextet when he plays The Rex June 27 and 28.