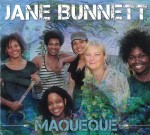 Maqueque
Jane Bunnett
Justin Time JTR 8586-2
Toronto sax player Jane Bunnett has long immersed herself in Cuban music and many of her award-winning recordings have introduced Cuban musicians to North American audiences by blending Afro-Cuban rhythms with contemporary jazz. Her latest, Jane Bunnett and Maqueque, is no different, as Bunnett ventured to Havana to record with this new all-female group. ("Maqueque" – pronounced Ma-keh-keh – means the spirit of a young girl in an Afro-Cuban dialect.) Voice, flute and soprano sax-laden, the tracks are driven by percussion, as you'd expect. The strings, courtesy of the Annex String Quartet arranged by ex-pat Cuban and piano master Hilario Durán, lend a sense of drama and old-fashioned romance to many of the songs. The recording is not over-produced so has an immediacy and authenticity to it. Singer Dayme Arocena has a particularly strong presence as she wrote three of the songs on the disc – including the lovely Canto a Babba – and has a raw, earthy warmth to her voice. One of the standout tracks is her duet on Bill Withers' Ain't No Sunshine When She's Gone sung in English and Spanish which starts out simply and hauntingly accompanied by only tres guitar and congas.
The final cut – Song for Haiti – was originally recorded as a fundraiser for Red Cross relief efforts in that struggling country and has completely different personnel on it, including Cuban rapper Telemary. The clever arrangement is a sophisticated and touching way to close out the disc. Maqueque is touring Canada and the U.S. this year and dates can be found at janebunnett.com/tour.
Editor's Note: Four-time JUNO Award-winner, two-time GRAMMY nominee and Officer of the Order of Canada, Jane Bunnett has been chosen as a finalist for the Ontario 2014 Premier's Award for Excellence in the Arts. The laureates will be announced at an awards ceremony at Roy Thomson Hall on September 16. Bunnett and Maqueque finish up their U.S. tour on September 22 at NYC's prestigious Blue Note Jazz Club and give a farewell performance at Hugh's Room in Toronto on September 27, before the band returns to Cuba.