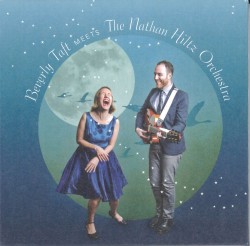 Beverly Taft meets the Nathan Hiltz Orchestra
Beverly Taft; Nathan Hiltz Orchestra
Independent BT-002 (beverlytaft.com)
With the release of this ebullient parfait of a vocal jazz/big band CD, some much-needed joie de vivre has been transfused back into the current jazz scene. The well-produced project conjures up images and sounds of the classic supper clubs of the 1950s and features ten original compositions, co-authored by engaging vocalist/lyricist Beverly Taft and JUNO award-winning guitarist and arranger, Nathan Hiltz. The recording has a refreshing "live," organic quality – and no auto-tune or obsessive over-dubbing will be found here... in fact, just as a great actress eschews cosmetic surgery, every nuance and imperfection of Taft's vocal interpretations is full of life experience, truth and beauty. Additionally, the CD is set against the musical canvas of a swinging and skilled nonet, including William Carn on trombone, Shawn Nykwist on tenor, Richard Underhill on alto, Jake Wilkinson on trumpet, Artie Roth on bass, Sly Juhas on drums and special guest Adrean Farrugia on piano.
Notable tracks include the lilting and sensual Clock Tickin' Blues (enhanced by Underhill's funky alto solo) and Gay Repartee at The Ski Chalet, the true love story of Taft's own parents (with particularly groovy solos by Hiltz and Underhill). Of special mention is the bebop-ish Bouncin' Round My Brain – a superb band feature and a clear tip of the hat to the great Lambert, Hendricks and Ross' hit Twisted, as well as the cool, trombone and guitar-driven cooker Travellin' Along and the closing tune, Izzie and Birdie (about two little girls at play) which showcases Taft's enchanting lyrics and the inspired piano work of Adrean Farrugia.