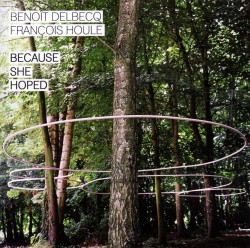 Because She Hoped
Benoît Delbecq; François Houle
Songlines SGL 1592-2
www.songlines.com
Dazzlingly interactive, this third duo disc by Vancouver clarinettist François Houle and Parisian pianist Benoît Delbecq exposes rugged as well as impressionistic textures. Delbecq, who often prepares his strings with implements, and Houle, whose extended techniques include circular breathing and split tones, are modest as well. They allow the improvisations to evolve organically rather than calling attention to their skills.
Yet two versions of the clarinettist's Pour Pee Wee end up being completely distinct. Houle smears intense vibrations atop Delbecq's uninterrupted wooden key clicks in 120 seconds during the first variant; the second, three times as long, finds the pianist's sour and percussive motifs enlivened by passing chords and staccato asides, as circling glissandi and tremolo flattement presage a final swinging pulse from Delbecq. This unforced jauntiness is also expressed on the un-clichéd Clichés, composed by saxophonist Steve Lacy who influenced them both. Delbecq's marimba-like string pops are perfect down-to-earth accompaniment to the concentric and jaunty melody elaborated by Houle. When reed squeaks and syncopated lines unite for the finale the textural release illuminates the note-perfect, yet moderated playing of both.
Throughout, unmatched textural command from the two maintains a melodic flow. Whether the base performance encompasses atmospheric liquid clarinet runs and sympathetic keyboard chording on Duke Ellington's The Mystery Song, or turns Delbecq's castanet-like polyrhythms plus Houle's tremolo pitchslides on the pianist's Ando atonal, a final variant reveals an innate modern tonality. The reedist's title tune similarly demonstrates that sympathetic romanticism can eventually result from a narration that begins with tongue slaps and key clipping.