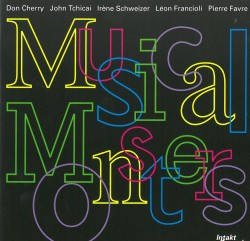 Musical Monsters
Don Cherry; John Tchicai; Irène Schweizer; Léon Francioli; Pierre Favre
Intakt Records CD 269 (intaktrec.ch)
This previously unreleased concert recording from 1980 presents a special confluence in the development of free jazz as a wholly international language, with trumpeter Don Cherry and his personal evolution at the centre of the music.
Cherry was one of the key architects of free jazz, first as frontline partner to Ornette Coleman in the latter's 1958-60 quartets, perfecting a spiky, splintering harrowing line that served as foil in great bands that followed (Sonny Rollins, Albert Ayler) as well as his own groups. By 1980, Cherry was working toward his "Multikulti" concept: modal, polyrhythmic, ostinato-driven music that incorporated elements from Asia, Africa and the Middle East. Setting down here at Jazz Festival Willisau in Switzerland, Cherry is joined by the Danish-African alto saxophonist John Tchicai, an associate since the early 60s, whose lines are tight coils, explosive and laconic in turn. They're supported by the potent rhythm section of pianist Irène Schweizer, bassist Léon Francioli and drummer Pierre Favre, early converts to Cherry's inclusivist and liberated language.
The themes were composed by Tchicai and Danish guitarist Pierre Dørge, but they serve essentially as brief launching points for long, loose forays. Musical Monsters 1 begins as a joyous traffic jam, trumpet and saxophone sounding like car horns; 2 covers tremendous ground, moving in and out of free time and layered ostinatos that inspire literal chanting from Tchicai. Whether it's coiling sinuously or exploring raw, unfettered sound, this is music from the vaults that breathes and pulses with fresh life.