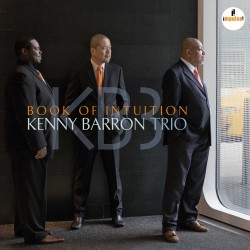 Book of Intuition
Kenny Barron Trio
Impulse! 4777802
Review
Pianist Kenny Barron is one of the grand masters of modern jazz. At 73, he can look back on a distinguished career that had him recording with Dizzy Gillespie and James Moody before he was 20. The incarnation of a great tradition, he combines invention, energy and lyricism, drawing on the work of Bud Powell and Art Tatum. He's also a probing interpreter of the compositions of Thelonious Monk.
Book of Intuition is the first recording by Barron's working trio with bassist Kiyoshi Kitagawa and drummer Johnathan Blake, a group that has acquired a hand-in-glove familiarity during more than a decade together. It's apparent from the Brazilian-tinged élan of the opening Magic Dance to the elegiac grace that the group brings to the late bassist Charlie Haden's Nightfall. Along the way, the trio reveals its deft handling on some of Barron's touchstones. The rhythm section feeds Barron's own fierce drive on Bud-Like, the pianist's tribute to Powell achieving something of its subject's own creative urgency. There are also two Thelonious Monk compositions: the trio brings inventive buoyancy to Shuffle Boil, with Blake demonstrating wittily melodic phrasing; Barron plays Light Blue solo, emphasizing Monk's own sources in the Harlem stride pianists and Art Tatum.
Barron's own compositions here possess a consistent lyricism, with Kitagawa lending a solid foundation and Blake supplying bright, shifting accents, whether it's to the Latin-infused Cook's Bay and Dreams or Barron's ballads, like the aptly titled Prayer. For traditional jazz trios, this is state of the art.