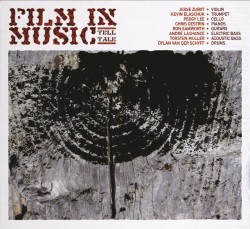 Tell Tale
Film in Music
Drip Audio DA01207 (dripaudio.com)
Led by cellist Peggy Lee, Film in Music is an octet formed in 2009 that includes many of Vancouver's most creative improvisers. Originally inspired by the HBO series Deadwood, the project develops a strong sense of mood and narrative through Lee's compositions for the full ensemble with their structured solos, while interludes of individual and small group improvisation create contrast.
String textures predominate in a mix of Lee's cello, Jesse Zubot's violin and Torsten Muller's acoustic bass along with Ron Samworth's electric guitar and André Lachance's electric bass adding gravity. Combining these with the additional colours of Kevin Elaschuk's trumpet, Dylan van der Schyff's drums and Chris Gestrin's keyboards lends an almost orchestral depth. The compositions are strongly tonal, even tuneful, and there's a kind of drifting feeling that suggests the Old West touched by a certain dissonant grit, the combination strongly suggestive of Bill Frisell's off-kilter Western themes, most notably the opening A Turn of Events and the keening Epilogue to Part 1.
The improvised episodes are marked by extended techniques and free dissociation, like Muller's Gruesome Goo, an exploration of the bass' more exotic timbres, and the evanescent Nagging Doubts by the duo of Lee and Gestrin. Eventually ensemble composition and free improvisation intersect in the concluding Finale: God's Laughter and a Parade, looming, intense writing that's overlaid with skittering free improvisations, most notably from Gestrin and Samworth.