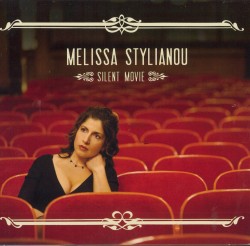 Silent Movie
Melissa Stylianou
Anzic Records ANZ-0036
www.melissastylianou.com
On this, her fourth album, Toronto-born, New York-based vocalist Melissa Stylianou sings with endearing sensitivity and ample heart. Pleasing to the ear, her voice is higher in range than most jazz singers, occasionally soaring majestically but for the most part remaining understated, focused on the words she sings rather than the sounds she produces. Stylianou's eclectic taste for repertoire here blends standards and originals with a range of contemporary material: James Taylor, Paul Simon, Johnny Cash, avant-garde folk singer Joanna Newsom and Brazilian pop star Vanessa da Matta. Brilliantly arranged to suit Stylianou, these covers provide some exquisite musical moments.
Perhaps the only downside to recording such excellent covers is that the artist's own originals do not shine quite as brightly. But the album has numerous highlights including Simon's Hearts and Bones, da Mata's Onde Ir, Newsom's Swansea and a stunning take on one of jazz's most sentimental standards, The Folks Who Live on the Hill, delivered here with supreme sincerity. All four tracks benefit greatly from the vibrant work of multi-reed player Anat Cohen, appearing here on clarinet, bass clarinet and soprano saxophone. Guitarist Peter McCann is a sympathetic asset throughout, and cellist Yoed Nir is a nice added touch on a few tracks. That said, the entire band cushions Stylianou admirably throughout this beautifully produced, refreshing recording.