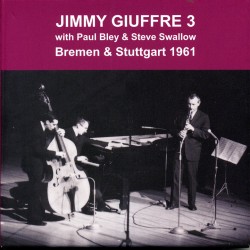 Bremen & Stuttgart 1961
Jimmy Giuffre 3
Emanem 5208 (emanemdisc.com)
Arguably one of improvised music's most underappreciated pioneer groups, clarinetist Jimmy Giuffre's trio of the early 1960s with pianist Paul Bley and bassist Steve Swallow, toured infrequently, made poorly selling LPs and finally called it quits when a door gig yielded the members 35 cents each. Yet more than a half-century later the foundations of sophisticated chamber jazz characterized by Keith Jarrett and the dissemination of now-classic Carla Bley compositions can be traced back to the trio.
Mostly cleanly recorded by German radio during a 1961 tour, this two-and-a-half hour, 26-track, 2-CD set collects material previously released on separate discs, plus six unreleased tracks and two bagatelles from a New York date earlier in the year. New tracks, including Thelonious Monk's Ba-lue Bolivar Ba-lues and Ornette Coleman's Compassion for P.B. are piano-bass duets with Bley's nimble interpretations the equivalent of putting these advanced concepts into a blender ending up with sonic smoothies that are low calorie even as they preserve motion and cunning. Giuffre's almost exclusively contralto- and higher-pitched clarinet make compositions like his own Cry, Want seem excessively piercing. But Swallow's solid thumping and Bley's sprightly chording, as well as the reedist's innate sense of swing, mitigate most musical alienation.
Two versions of C. Bley's Jesús Maria, P. Bley's Carla and Giuffre's Cry, Want, Venture and Whirrrr confirm how the trio's cohesive timbre-mingling allows the members to create radical variants on those then brand-new pieces, the last of which is performed hard and heavy in one city, fleet and ambulatory in the other. Meanwhile Venture is an unpretentious instance of two-part invention in a jazz context with each player balancing entrances and exits around a steadying continuum. Tellingly both renditions of the clarinetist's Suite for Germany skip through variables of speed and near stasis, with piano-string plucks and elongated reed tones confirming the stillness and strength of an improvisational concept more than slightly ahead of its time.