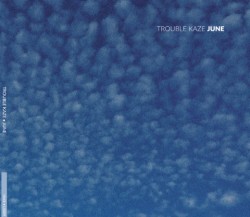 June
Trouble Kaze
Circum-Disc HeliX LX009 (circum-disc.com)
Kaze first launched in 2011 as a quartet of Japanese and French improvisers, matching the husband and wife team of trumpeter Natsuki Tamura and pianist Satoko Fujii with trumpeter Christian Pruvost and drummer Peter Orins. That brassy instrumentation may suggest an overdose of trumpet pyrotechnics, but Tamura and Pruvost's virtuosity includes extended techniques, radically altering their palettes, while the band's invention and energy create real excitement. Trouble Kaze expands the group to a sextet with the addition of two more French musicians, pianist Sophie Agnel and drummer Didier Lasserre, the name punning on the resultant triple duo or double trio.
The five-segment performance eschews formal match-ups for a loose, intuitive shape with a meditative and ceremonial character. Parts I and II have a serene and distinctly Asian quality, combining small cymbals with the sounds of prepared piano strings; as the work progresses, it literally engages the sound of its space, allowing instruments to approach and even reach silence or, alternatively, to make dramatic and singular sonic gestures. Part IV has a lengthy and lyric muted trumpet solo, likely Tamura, a rare occasion for a familiar trumpet timbre, while Part V begins with a fine approximation of a crying baby. By its conclusion, the piece has become isolated drum strokes, trumpet blasts and piano chords along with what sounds like a beeping alarm endowed with the ability to change pitch.
It's more powerful than any description might suggest.