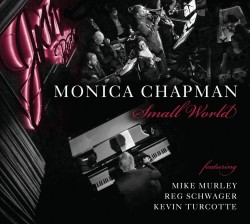 Small World
Monica Chapman (Mike Murley; Reg Schwager; Kevin Turcotte)
LME Records 8 13429 00261 2 (monicachapmanmusic.net)
With her new release, Monica Chapman seamlessly builds on her previous successes with another eclectic, tasteful and brilliantly performed and produced project. A master of lyrical interpretation, she has drawn her material from the worlds of Broadway, the Great American Songbook and even the Spanish repertoire of Eydie Gormé. Collaborating once again with producer/arranger/pianist Bill King, Chapman offers up an irresistible smorgasbord of musical delights. Saxophonist Mike Murley (on alto here), guitarist Reg Schwager and trumpeter Kevin Turcotte are featured, supported by the dream-team rhythm section of King on acoustic piano, Dave Young on bass and Mark Kelso on drums and vocals. Additional support is provided by Nathan Hiltz on guitar, Rob Somerville on trombone and Magdelys Savigne on percussion.
Among the fine tracks is the opener, Arthur Schwartz' Depression-era classic, A Shine on Your Shoes, authentically arranged and rendered. Also excellent is a gutsy, bluesy, contemporized take on Shirley Bassey's hit Goldfinger. The luscious title track comes from Sondheim and Styne's musical Gypsy, and not only shows Chapman at her most vulnerable, but features the pristine rhythm section as well as a sonorous trombone solo by Somerville. Most unexpectedly, Chapman displays her considerable moda Mexicana chops with a silky and sexy take on the Latin standard Piel Canela (Cinnamon Skin). Also in the silky and sexy category would be King's clever, up-tempo arrangement of Baby It's Cold Outside, featuring drummer Kelso's gorgeous tenor voice – the perfect complement for Chapman.
A true gem is Billy Holiday's Don't Explain. Chapman's natural warmth and vocal resonance reveal hidden dimensions and embrace each tragic word with melancholy longing
Concert note: Monica Chapman launches Small World at Jazz Bistro on June 4.