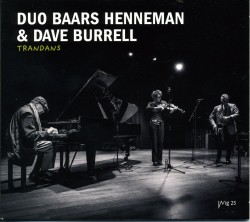 Trandans
Duo Baars Henneman & Dave Burrell
Wig #25 (stichtingwig.com)
Having played together in many contexts for more than a quarter century, Dutch reedist Ab Baars and violist Ig Henneman are like draft horses, so long in harness that they can respond to each other's motions before they even happen. Although this mixture of strained, sul tasto resilience from the fiddler and outpourings that range from shrilly atonal snarled blares to mere breaths, depending on Baars' use of clarinet, tenor saxophone or shakuhachi, would be distinctive in itself, they up the ante on Trandans by playing with veteran American pianist Dave Burrell, with whom neither had previously recorded.
As meditative and whimsical in his hunt-and-peck narratives as the other two are penetrating, as demonstrated on his mostly solo musings on Korsekebacken, Burrell's basso-directed fills are low-key in both senses of the word. Yet as tracks such as Fyllevägen and Laggareno demonstrate, his unflappable keyboard command adds a certain formality when involved in counterpoint with the duo. Especially illustrative is Laggareno, since the harshness engendered by the fiddler's tempered-blade volatility, in broken octave concordance with altissimo reed shrieks, is warmed to a finer-tuned narrative via the pianist's even-tempered chording. On their own as captured on Rassel runt Brunnen, the duo follows multiphonic paths the way a grizzled guide uses trail markers. They're never lost and are constantly interesting, since Baars' crying split tones or lows from the tenor saxophone's bottom notes help regularize the near-atonal exposition, even as Henneman brings her own spiny individualism to the tune.