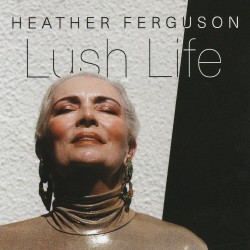 Lush Life
Heather Ferguson; Miguelito Valdes; Barrie Sorensen; Tony Genge; Jan Stirling; Joey Smith
Independent (heatherferguson.ca)
I had the pleasure of meeting Heather Ferguson at Toronto's El Mocambo in May 2022; we were both at Ori Dagan's Click Right Here album launch. I remember thinking how rich and warm her speaking voice was, and wasn't surprised when she told me that she, like Dagan, was a jazz vocalist.
Lush Life is the Victoria-based artist's smashing debut album. And while it may be her first full-length CD, Ferguson has been honing her singing chops for years. This is not a beginner's voice. This is the voice of an experienced student and lover of jazz who has been paying close attention over a lifetime to the best interpreters of the 20th century's classics and standards. You can hear it in her beautiful phrasing and in her engaging, confident, generous, insightful and passionate performance. She is a consummate storyteller who keeps things interesting and inviting.
Ferguson treats us to ten tracks, with help from some of Victoria's finest, including Miguelito Valdes on trumpet, Barrie Sorensen on saxophones, drummer Damian Graham, keyboardist Tony Genge and guitarist Joey Smith, whose stellar arrangements add another layer of excellence to the project.
From the expressive and lovely title track, the truly soulful Body & Soul and the sultry (and cheeky at the end) At Last, to a deeply evocative Cry Me A River and darn right gorgeous Round Midnight, Ferguson's Lush Life is a celebration of a musically infused life well lived!