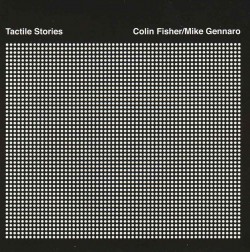 Tactile Stories
Colin Fisher; Mike Gennaro
Cacophonous Revival Recordings CRR-015 (cacophonousrevivalrecordings.bandcamp.com)
Following their first release, Sine Qua Non, guitarist and saxophonist Colin Fisher and drummer Mike Gennaro – two of Canada's most visible improvising experimental musicians – have recorded their second album, Tactile Stories, an exhilarating four-track collection of free-improvised pieces. Fisher and Gennaro play off of one another with impressive musicality and effusive bravura. Their combined sound is lavish but never swanky and the delivery of ideas is as brilliant as it is ravenous – the two musicians truly connected in their improvisatory impetuses.
The first track, Ex Nihilo is a powerful example of why Fisher and Gennaro have become some of the most in demand improvising experimental musicians in Canada. The music is virtuosity set free in the wild while making room for more contemplative interludes. Dynamic and driving explorations continue in the tracks Ekstasis and Epinoia while the track Esse offers a more sensitive atmosphere.
Fisher's guitar playing is a stunning combination of swells, prickly quirks and dramatic runs. Gennaro draws from an endless cache of stylistic realms that makes for a propulsive energy. Tactile Stories is exactly that – a collection of sonic narratives revealing why these two musicians are at the fore of free-improvised music.