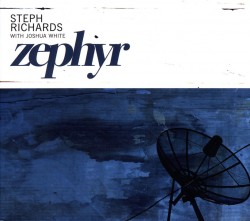 Zephyr
Steph Richards
Relative Pitch Records RPR 1132 (relativepitchrecords.bandcamp.com)
Dedicated to exploring an instrument's every niche and extended technique is Canadian-in-California trumpeter/flugelhornist Steph Richards, joined by percussive pianist Joshua White with a similar aim here. In the form of three multi-track suites, the two explore visceral episodes that go beyond brass, wood, strings, air and pressure.
As Richards slides from one emphasized tone to another, she sometimes augments the output by plunging her bell into a watery vessel. The moist results add distinctive tinges to muted plunger tones. Sacred Sea expresses that in its most extended form when mated with broken-octave blowing reflecting outward after being aimed at piano innards. White's string preparations jangle sympathetically there. But elsewhere with pedal extensions, slaps against the instrument's wood and keyboard clips and arpeggios that are inclined more towards stride than solemnity, his accompaniment is dynamic as well as linear.
Half-valve effects and rippling smears during all of the Northern Lights suite allow Richards to alternately advance greasy snarls and lyrical slides, finally culminating in hand-muted gutbucket tones that squeak upwards on top of keyboard rumbles. However, no matter how experimental the brass-keyboard duets appear to be, during the set of Sequoia tunes and elsewhere, a feeling of joyous balance remains. With her clarion peeps sounding as if they're from a piccolo trumpet, it seems a riff based on Largo al Factotum is being sounded.
Zephyr may be a gentle breeze but the blowing here offers a lot more than that.