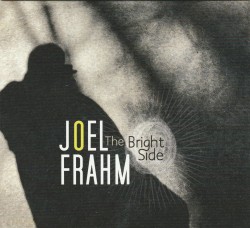 The Bright Side
Joel Frahm; Dan Loomis; Ernesto Cervini
Anzic Records ANZ-0068 (joelfrahm.com)
I first heard the outstanding, saxophone virtuoso Joel Frahm over ten years ago at New York's Jazz Standard (sadly, a now-shuttered COVID casualty), and have since made a point of catching him in Toronto over the years, when he's often been featured in drummer Ernesto Cervini's band, Turboprop.
Frahm's latest project and debut trio album, The Bright Side, brings him and Cervini together again, along with bassist Dan Loomis (also a Turboprop member). Fun fact: the trio arose out of a U of T jazz masterclass. These three masterful musicians are longtime musical friends and colleagues, and their empathetic, polished, "well-oiled machine-ness" is evident on each of the ten original tracks; seven are penned by Frahm, two by Loomis and one by Cervini.
Frahm offers three dedications on the album: the high energy Blow Poppa Joe is for Joe Henderson; Benny Golson is honoured in the cool and upbeat Thinking of Benny (where I'm sure I heard a nod to The Andy Griffith Show theme song); Omer's World is a funky homage to the great Israeli jazz bassist Omer Avital. As for Frahm's swinging and inventive title track, its inspiration was Lou Reed's Walk on the Wild Side.
Loomis' Silk Road is a moody and sensual track, with Frahm on soprano sax. And The Beautiful Mystery by Cervini is a hauntingly pensive and evocative ballad, showcasing the emotion and heart these stellar musicians bring to the table.
Here's hoping we'll hear more from Frahm in the chordless trio format!