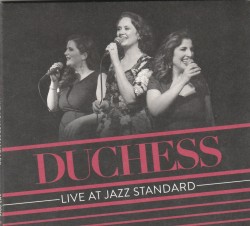 Duchess – Live at Jazz Standard
Duchess Trio (Amy Cervini; Hilary Gardner; Melissa Stylianou
Anzic Records ANZ-0066 (duchesstrio.com)
Quick! Think of the Boswell Sisters, the Andrews Sisters and the Barry Sisters, and what immediately comes to mind? Some jazzy, Swing Era singing, tight harmonies, impressive vocal gymnastics and a rollicking good time. Well, fast forward from the 1930s and 40s to 2020, and you've got Duchess, a trio of talented, New York-based, sisters-in-song, Amy Cervini, Hilary Gardner and Melissa Stylianou, deftly channelling the infectious (we are in pandemic times, after all) energy of those vintage, vocal groups, while adding their own modern and comedic spin to the mix, in their latest release, recorded live at one of New York City's most beloved jazz joints, Jazz Standard.
Duchess has been singing and swinging together since 2013. And it appears there's been a love affair going on between the trio and Jazz Standard for about as long (if not longer). Their first CD was released there in 2015, and according to the Duchess website, an eponymous cocktail was created especially for them by the venue's master mixologist. That's some serious respect!
Respect must also be given to the superb quartet performing with the trio: Michael Cabe, piano; Jesse Lewis, guitar; Matt Aronoff, bass; Jared Schonig, drums.
With this live album, you can "hear" the women smiling as they perform such nuggets as Heebie Jeebies, Bei Mir Bist Du Schoen and Everybody Loves My Baby before a very appreciative audience. Live at Jazz Standard is a fun and fabulous romp, sure to make you smile, too!