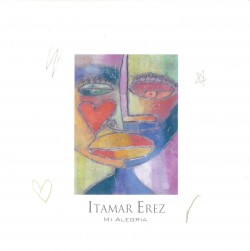 Mi Alegria
Itamar Erez
Independent (itamarerez.com)
Itamar Erez's music refreshingly defies categorization, though "world jazz" seems a reasonable option for DISCoveries review purposes. His is a rich, borderless musical world, with influences ranging from Bach to Brazilian choro. For Israeli-born, Vancouver-based Erez, a world-class guitarist, pianist, composer and educator, his myriad sources of inspiration reflect a wealth of musical traditions including Middle Eastern, flamenco, Latin, classical and the aforementioned jazz.
This array of influences is readily apparent on the breathtaking new release, Mi Alegria (Spanish for my joy). With each track a compelling example of Erez's elegant and masterful musicianship, it's hard to know where to draw one's attention, but the title track is as good a place as any. Dedicated to his daughter Mia, Mi Alegria (get it) is as close to a classic jazz arrangement as you'll find on the CD. With Erez on piano, bassist James Meger, drummer Kevin Romain and Ilan Salem on flute, it swings with a jaunty energy. On the other hand, Yahli's Lullaby, named for Erez's 12-year-old son (whose artwork graces the front cover), is an evocative and touching piece with a Middle-Eastern flavour.
For Erez's pyrotechnical guitar work, listen to Choro Sentimental. It is truly jaw-dropping. Endless Cycle has a driving momentum, with Erez playing piano and guitar, sometimes both at the same time! Peppered throughout the album, François Houle (clarinet), Celso Machado (percussion) and Hamin Honari (tombak) contribute sumptuous layers of sound.
Mi Alegria is just that: a joyful, musical celebration by a truly engaging artist.