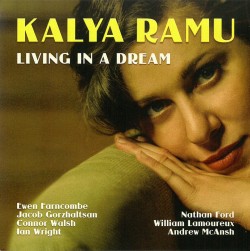 Living in a Dream
Kalya Ramu
Independent (kalyaramu.ca)
One of my favourite songs to request is You Go To My Head – a gorgeous ballad that, admittedly, is not all that easy to pull off if you haven't done your homework. So when a singer nails it, I am won over, as I was upon hearing Toronto-based jazz vocalist Kalya Ramu's sultry and soulful version, one of 11 beautifully rendered tracks featured on her debut album, Living in a Dream, which includes four of her original compositions. Ramu's voice has a warmth, depth and maturity to it that belies her 25 years. As a young girl, she fell under the spell of Sarah Vaughan, Ella Fitzgerald and Peggy Lee, and it shows; I also hear hints of Helen Merrill and Doris Day.
Like her jazz vocalist heroines, Ramu understands the importance of phrasing (something often lacking in younger singers), allowing time for the natural arc of a line to wend its way to the next one, as is evident in her sensuous rendition of What's New, as well as in her lovely ballad, Find in Me, and her torchy/sexy She Drinks Alone.
The woman can also swing! With stellar assistance from tenor saxophonist and clarinettist Jacob Gorzhaltsan, pianist Ewen Farncombe, bassist Connor Walsh and drummer Ian Wright (and assorted special guests), Ramu serves up spirited takes on Just You Just Me, Four or Five Times and It's A Good Day. A singer warranting your attention, Kalya Ramu's debut CD is dreamy, indeed.