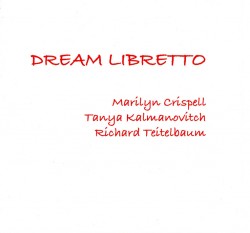 Dream Libretto
Marilyn Crispell; Tanya Kalmanovitch; Richard Teitelbaum
Leo Records CD LR 849 (leorecords.com)
A rare departure for American pianist Marilyn Crispell and Canadian violinist Tanya Kalmanovitch, who are usually involved with spiky improvisational work, this mostly sombre program instead deals with loss and regeneration reflected in a five-part Crispell composition for trio and seven duo improvisations.
Showcased, Memoria/For Pessa Malka is the pianist's formal composition, and it evolves in different sequences to reflect the emotions she felt following the recent deaths of close relatives and friends. Crucially, Richard Teitelbaum's wave-form processing is funeral parlour-like muted, with the requisite sense of mourning really conveyed by brief violin sweeps that help amplify the pianist's low-frequency threnody. Luckily when the final sequence is heard, Crispell has shaken off enough melancholy to enliven the coda with chiming piano chords.
Created without electronics, the seven equally brief improvisations are a requiem respite. Accelerating from the first four tracks which crisply outline how grief can lead to musical artistry, the pieces become livelier with, for instance, Kalmanovitch's snapping spiccato strings and Crispell stretching arpeggios into tremolo chording. By the time Stones Remain Still and Walked through to Sleep (the penultimate tracks) arrive, the mood has been elevated to become more stimulating. This is done with inner-piano string strums and keyboard surges alongside upward string swells from the violinist. Instructively though, the musical uplift reflected in these duos still maintains the solemn mood that is intensified in the final Stars Visible and Invisible which cannily reflects back on the initial suite.