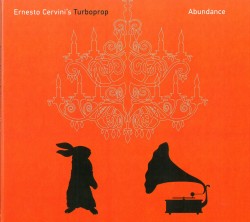 Abundance
Ernesto Cervini's Turboprop
Anzic Records ANZ-0063 (ernestocervini.com)
Is there a more perfect time to release a CD titled Abundance than amid the lush colours of October and the overflowing riches of the fall harvest? Drummer, bandleader and composer Ernesto Cervini's JUNO-nominated sextet Turboprop's third CD, released on the eve of the Thanksgiving weekend, is a study in abundance and gratitude.
A seasoned, thoughtful (and grateful) bandleader, Cervini consistently draws out the best in his bandmates. Featuring Tara Davidson on alto and soprano saxophones and flute, Joel Frahm on tenor sax, William Carn on trombone, Adrean Farrugia at the piano and bassist Dan Loomis, the CD's eight tracks include innovative originals from Davidson, Farrugia, Loomis and Cervini, as well as inventive takes on three classics, Dameron's Tadd's Delight, Arlen's My Shining Hour and Smile by Charlie Chaplin, the latter showcasing some absolutely lush trombone work by Carn.
Davidson's The Queen is a driving tour de force; The Ten Thousand Things by Farrugia opens with Loomis' rich and resonant bass work; Cervini's Gramps is a lovely, contemplative ballad dedicated to his late grandfather; and his Song for Cito celebrates legendary Blue Jays manager, Cito Gaston (remember those back-to-back World Series titles in 1992/93?). Evident throughout are Farrugia's stellar piano solos, Davidson's and Frahm's saxophone mastery and Cervini's always-tasteful work on the drums.
In the liner notes, Cervini expresses heartfelt gratitude to several important and inspiring people in his life. However, it is we, the listeners, who should be abundantly grateful for the existence of this outstanding album.