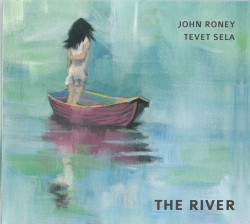 The River
John Roney; Tevet Sela
Effendi Records FND149 (effendirecords.com)
"It's all kind of going in a big cultural pot." Those are some of the essence-capturing words Montreal-based jazz pianist John Roney uses to describe The River, his collaborative project with Israeli-born, Montreal-based, alto saxophonist Tevet Sela, in a September 2017 YouTube video introducing the project, which was released the following month. The "it's" he refers to is the amalgam of their diverse musical influences permeating – or perhaps more apt, flowing through – The River: Middle Eastern, jazz, klezmer, classical chamber music and North African rhythms.
The album is a most engaging collaboration. Roney and Sela are highly skilled and innovative players and composers; this is apparent from The River's ten original tracks. After listening to the entire CD several times (it warrants an uninterrupted session), these are some of the words that came to mind: lyrical, poignant, probing, driving, intimate, hypnotic, expansive, compelling, moving and mellifluous.
From the CD's cover art to each evocatively named composition – in addition to the title track are such monikers as Watershed, Always Too Far, Gentle Shifts, Dream in Blue, Closer Horizon, Calm Flat Sea – Sela and Roney have created a singular musical journey that does indeed flow with a river's momentum.
I conclude, as I began, with some words by Roney from the YouTube video: "The river is really a metaphor for the overwhelming power of inspiration, improvisation and really being spontaneous in the moment, and allow[ing] the music to carry you forward."
May your spirit be inspired and buoyed up by The River.