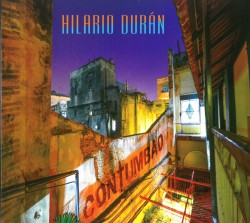 Contumbao
Hilario Durán
Alma Records ACD92272 (almarecords.com)
Passionate, innovative, expressive, dynamic, evocative, sophisticated, genius – superlatives consistently used to describe the towering musicality and virtuosity that is pianist, composer, arranger and bandleader, Hilario Durán. Born in Havana, Cuba and based in Toronto for the past 20 years, Durán has been wowing the world with his creative approach to Afro-Cuban and Latin jazz, one breathtaking concert after another.
Contumbao is a project that literally has brought Durán back to his Cuban roots. Recorded at Havana's legendary EGREM studios (whose storied roster includes Orquesta Aragón, Arturo Sandoval, Chucho Valdés and the Buena Vista Social Club, and where Durán had recorded hundreds of sessions), it was Durán's dream to get back there and play with some of his favourite musical collaborators, including two original bandmates from his 1990s band, Perspectiva: guitarist Jorge Luis Valdés ("Chicoy") and bassist Jorge Reyes.
Contumbao is a heartfelt homage to Cuba's rich, musical history. Indeed, Durán dedicates his album of new compositions to Cuban music and its many musical styles "whose music and rhythms run through my veins." This is apparent from the pulsating rhythms of the title track, and the spirited rumbas, El Tahonero and Rumba de Cajón, to the poignant Parque 527 – Durán's former Havana address – and the exhilarating Duo Influenciado, performed with his friend and champion, the aforementioned Cuban piano great, Chucho Valdés.
All the superlatives in the world can't do justice to the experience of listening to Durán and his stellar cast of musical compatriots. In fact, Contumbao may leave you speechless!