Since the realignment of East and West after the fall of the Berlin Wall, musicians of every stripe have found new playing opportunities and partners. In the former Soviet countries, one particularly fertile area for improvisers has been Poland. While westerners may figure Polish jazz begins and ends with Krzysztof Komeda's score for Rosemary's Baby and other Roman Polanski films, the country's rich jazz history goes back to the 1920s and maintained its place during Communist rule. Today, like the equivalent attention paid to their ancestral roots among the children of immigrants, western improvisers have discovered the fulfillment of working with Polish bands or having Polish musicians part of their groups.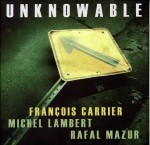 Case in point is Montreal alto saxophonist François Carrier. Unknowable (NotTwo Records MW 928-2, nottwo.com), showcases a touring partnership he and his Montreal associate, drummer Michel Lambert, have formed with Krakow-based acoustic bass guitarist Rafal Mazur. Authoritatively using both the guitar and double bass properties of his instrument with equal proficiency, Mazur is like the third partner in a fantasy ménage à trois, adding to the situation without disrupting the others' union. An equal opportunity companion, his hand taps add percussive weight to Lambert's rolling ruffs and pops, while his array of thumb and finger positions animates Carrier's skyward smears or stressed multiphonics. Listening Between, the first track, could serve as a description of how the three operate throughout: not only shadowing each other's propelled textures, but also anticipating sound patterns to fit what will soon be heard. Carrier's initial churlish reed-straining on that track for instance is soon pulled towards accommodating mezzo-like melisma as Mazur strums his guitar as if he was backing an operatic tenor. With Lambert beating away stoically, the bass guitarist loops out multiple theme variations, as compressed buzzes slide from Carrier's Chinese oboe for a unique interaction. Broken-octave communication characterizes Unknowable, the date's centerpiece. Like an extended length of hose unrolling, Mazur's staccato finger style sets up a continuum that's matched by the saxophonist's rubato cries which retain some sweetness. Eventually rim shot crackles and cross sticking from Lambert resolve the outbursts into a satisfying thematic whole. Still, it's indisputable that the three didn't want to let go of what they achieved musically. Like guests at a great party who dawdle before leaving, Springing Out, the next track, and Dissolution, the concluding, barely 90-second one, come across as coda and then as coda to the coda of the title performance.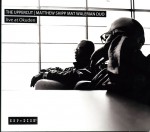 A duo consisting of American pianist Matthew Shipp and Polish multi-reedist Mat Walerian illustrates another collaborative application. Involved with his own trio and other combinations, Shipp has worked sporadically with Walerian, who plays alto saxophone, soprano and bass clarinet plus flute, yet the ten selections on The Uppercut – Live at Okuden (ESP-Disk 5007 espdisk.com) document fulfilling rapport between the two. Like a method actor, Walerian portrays a different character on each horn, but the output is united in finding unique sounds. Because of this, Shipp's narratives encompass everything from multi-note Art Tatum-like emphasis, out-and-out abstract key and string ratcheting reflecting both new music and free music, shaggy keyboard carpets of Chopin-like recital-ready intermezzos and primitive blues and early jazz echoes. The last is apparent on Blues for Acid Cold where a restrained lounge-like exposition from Shipp gradually hardens into a blues conception following Walerian's rangy, elongated clarinet tone. By the climax the two could be Jimmy Noone and Earl Hines in 1920s Chicago. In contrast, what begins with the pianist and alto saxophonist propelling slick mainstream timbres at one another on Love and Other Species – think Phil Woods and Jim McNeely – evolves into a breathtaking display of complicit split tones, as the two deconstruct the melody as if it were a building being dynamited to smithereens, then rebuild the tune into a solid edifice for a sympathetic ending. As for the consecutive Free Bop Statement One and Free Bop Statement Two, a flexible intro works up from creamy Johnny Hodges-like alto playing plus juddering, pre-modern jungle-band keyboard splashes to attain a series of motifs encompassing key clips and dissonant reed squawks, though never abandoning underlying swing. Conventional and avant-garde simultaneously, Black Rain may be the CD's most evocative track. A soothing duet, characterized by gentle keyboard patterning and graceful bass clarinet breathing, as if Shipp and Walerian were a long-time married couple finishing each other's sentences, it's suddenly ripped apart and replaced with Shipp's key clips and harp-like piano string strums hewing out an ascending sonic path and Walerian's intermittent tongue stops and flute peeps. Concluded with sparse sounds that wouldn't be out of place in a new music recital, the two confirm their versatility and the vitality of the disc.
Review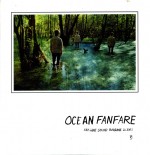 Another application of this international formula is the Ocean Fanfare quartet. Consisting of Polish trumpeter Tomasz Dąbrowski, two Danes, alto and tenor saxophonist Sven Dam Meinild and bassist Richard Andersson, and American drummer Tyshawn Sorey, the fusion results in an exceptional modern mainstream unit on its cleanly recorded CD Imagine Sounds Imagine Silences (Barefoot Records BFREC O40 barefoot-records.com), which consist of six Dąbrowski and three Meinild originals. Despite having composed the bulk of the material, Dąbrowski isn't any more prominent in performance than other members. Like a new drawing superimposed over an existing one, Ocean Fanfare has the instrumentation and left-field orientation of an Ornette Coleman quartet plus the stamina of the Jazz Messengers. Crucially, Sorey's broken time sense and cymbal swishes are less prominent than Art Blakey's, leaving supple booms from Andersson's bass to define the rhythmic bottom. Featuring the drummer's time-clock-like pacing, a track such as Lotus positions crying split tones from the saxophonist and melancholic plunger work from the trumpeter for an emotional narrative. 7 Days to Go extends the Coleman-like comparison, starting off echoing Lonely Woman until the skirmish takes on the strength of a battle with a double bass vamp and interlocked horn bluster. On the other hand the crackling velocity that propels US 12 resembles that of a classic bop 78, with each player's contributions tossed every which way, until a pseudo-march sequence introduces some spectacular brass plunger tones and climaxes with conjoined twin-like horn unison. By the final Meditation (on a Visit from France), the band appropriately trades in blunt reed smears, kazoo-like brass hums and popping bass and drum beats for a stable but buoyant ending. Following trumpet and saxophone tone slacking, the theme slips away leaving behind a bass string pluck and cymbal resonation.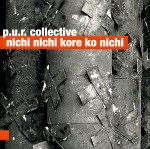 Politically Nichi Nichi Kore Ko Nichi by the P.U.R. Collective (ForTune 0056 006 for-tune.pl) is instructive in a non-musical manner since the cohesive seven tracks of free improvisation match a Polish combo of guitarist Maciej Staszewski, drummer Tomek Chołoniewski and Krzysztof Knittel on electronics with two reed players, Alexey Kruglov from Russia and Yuri Yaremchuk from Ukraine. Rather than being at loggerheads like their respective governments, the players create a collective program where the keening vigor of Yaremchuk's bass clarinet and soprano saxophone plus the jagged bites from Kruglov's alto saxophone, basset horn and block flute snuggle alongside the others' expressions like Matryoshka nesting dolls. Unlike these wooden Russian toys no player is more inside or outside than another. You can get an idea of this Eastern Bloc pact on U 01 where chalumeau lowing from the clarinet moves alongside uniform guitar strums as electronics create a convulsive ostinato of peeps and static. Even after the line mutates into a free jazz blow out from the saxophonists, intricate finger-style guitar lines and drum pops mute the explosions enough, while a moving block flute cadenza signals the finale. These ex-Soviets have a sense of humour as well. Cutting through the harsh flamenco-like runs from Staszewski and unorthodox beats from Chołoniewski on Extreme 07, Kruglov inserts some mocking rooster crows that presage his quicksilver reed smears and split tones as the factions unify distinctively.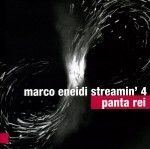 Of course it's still common for a visiting international soloist to hook up with Polish musicians to tour and record. One notable instance of this is Panta Rei (ForTune 0047 034 for-tune.pl), where Marco Eneidi Steamin' 4 consists of the leader, an American alto saxophonist living in Vienna, plus three high-functioning Poles: tenor saxophonist Marek Pospieszalski, bassist Ksawery Wójciński and drummer Michał Trela. Comfortable in two-saxophone situations, Eneidi's communication with Pospieszalski is at the highest level, often suggesting a funhouse mirror, where similar phrases from each are distorted with unique reflections. Ironically titled, Made in Pole Land highlights an emotional two-step which breaks down into speedy tremolos with snorts, horks and nasal buzzes goosed by Wójciński's pacing and Trela's wooden cracks. The swirl of buzzing double bass strings energizes White Bats Yodelling, although whether the flying rodents saluted with violent mammalian split tones, rumbling basso honks and agitated wing-like swishes are Polish or American isn't made clear. What is clear is that, like intrepid (tone) scientists, the two saxophonists chase every phrase and note to the end, wringing each sonic nuance, expansion and implication from it. With measured bumps, but no bombast, the drummer follows up Wójciński's sul ponticello intro to the concluding wordplay of Arco M. Adding additional string twanging later on, both he and Trela maintain the swinging pulse as the soloing of Eneidi and Pospieszalski contrast their intercontinental styles. When one architecturally builds a sleek Le Corbusier-like modernist line, the other counters with rococo detailing; then they switch roles with conclusive cooperation. Panta Rei may have been a first meeting for the American and the Poles, but the high level of musicianship exhibited by all confirms why collaborations involving adventurous Polish stylists and equally impressive out-of-country musicians are becoming increasingly common.