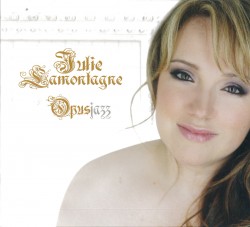 Opusjazz
Julie Lamontagne
Justin Time JTR 8570-2
I've never been a big fan of the "crossover" — opera divas singing jazz; rock stars performing opera; classical artists playing Hendrix — ouch. To my ear, it usually hasn't worked all that well (unless you're Keith Jarrett playing Bach). So, it was with some trepidation that I approached pianist/composer Julie Lamontagne's third and latest album, Opus Jazz.
Turns out I needn't have been so trepidatious. Lamontagne's efforts in "revisiting" favourite classical music pieces — "a meeting between the jazz world I currently inhabit and the classical repertoire of my youth" as she explains in her liner notes — have proved, by and large, quite successful in this CD of music for solo piano.
With an early and firm grounding in classical music, Lamontagne ultimately went on to study with Fred Hersh in New York in 2000. (Truthfully, that's what made me look twice at the CD. I mean, the sublime Fred Hersh, for heaven's sake — the jazz pianist's jazz pianist, and exceptional composer.) According to Lamontagne, Hersh encouraged her "to learn the works of Brahms in order to make the connection between jazz and classical."
Given Lamontagne's well-executed "adaptations" of works by Fauré, Chopin, Bach, Debussy and Brahms, among others, it seems she paid close attention to the teacher; her Brahms/Hersh-inspired Waltz for Fred does him (Hersh) justice. Bach's Prelude No.1 in C Major (WTC Book I) is given a fluid and beautiful treatment on track three. And in Chopineries, Lamontagne takes us on a brief, though mellifluous and moving, tour of a Chopin nocturne (Op. posth.72 No.1), ballade (No.1 Op.23) and waltz (No.1 Op.18).
Lamontagne is an accomplished and creative musician, no — uh, make that "yes" — two ways about it.