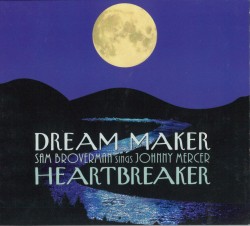 Dream Maker, Heartbreaker - Sam Broverman sings Johnny Mercer
Sam Broverman
Independent BR002 www.brovermusic.com
It's clear from the first cut of his debut album – and the well researched, informative liner notes – that Sam Broverman adores, respects and loves singing Johnny Mercer. Making "Dream Maker, Heartbreaker" was a dream come true for Broverman and how nice for us that he realized his dream with 13 terrific tracks, backed by 18 of Toronto's finest, including Chris Gale on tenor sax, pianists Peter Hill and Mark Kieswetter, cellist Roman Borys, Reg Schwager, guitar, Kevin Turcotte, trumpet and those wonderful Whiteleys – Chris on harmonica and trumpet and Ken, multi-tasking as always, this time on at least four instruments and playing producer.
Knowing he would inevitably invoke those titans of style and interpretation – Sinatra, Bennett, Tormé – I've got to hand it to this actuarial mathematics professor by day/jazz singer by night for his bravery, dedication and careful attention in taking on some of Mercer's most beloved and recognizable songs. Impressively, Broverman has put his own stamp on them. His Laura is lovely and evocative; he swings like the best of them in Day In, Day Out; broods with depth and intelligence in I Wonder What Became of Me. And I was moved by Moon River. Broverman sings it with just the right amount of sweetness, yearning and poignancy, managing to keep this nugget fresh and unhackneyed. (Oh, and the title of the CD? That's right – third line, first verse.)
Bravo – and Mazel Tov – to Sam Broverman, a fellow Winnipegger-living-in-Toronto. Ya done "The Peg" proud!
Concert note: Sam Broverman will perform material from "Dream Maker, Heartbreaker" at the Green Door Cabaret on December 3.