Having retired from my day job at New Music Concerts and recently undergone knee replacement surgery which involves an extended recovery, I have found myself lately with a luxury of leisure time. This has given me the opportunity to listen in more depth to the discs I select for my own column. It has also enabled me to select a bumper crop to write about, without however, providing any extra space in which to do so. With apologies to the artists, I will try to keep my assessments brief.
In my formative years, while immersing myself in the music of the 20th century, I set out to collect recordings of all the works of Arnold Schoenberg and Béla Bartók. Schoenberg proved to be the greater challenge, because in those days there was not yet a definitive collection of his oeuvre, so I had to gather the recordings wherever I could. The quest for Bartók was simplified by a comprehensive Complete Edition Bartók Béla issued in 33 volumes by the Hungaroton label. It was there that I first encountered the quintet for string quartet and piano dating from 1904, an unpublished student work that although well received at its first performance, was later withdrawn by the composer. I was pleased to receive a new recording of the youthful work on Veress – String Trio; Bartók – Piano Quintet featuring violinists Vilde Frang and Barnabás Kelemen, violists Lawrence Power and Katalin Kokas, cellist Nicolas Altstaedt and pianist Alexander Lonquich (ALPHA 458 alpha-classics.com). Frankly, the disappointment I had felt on my initial encounter some decades ago was confirmed upon re-listening to the quintet. Although I'm sure purists would not agree, to my ear the accomplished and virtuosic work would be more at home in Brahms' catalogue than in Bartók's. It shows a masterful control of late-Romantic-period nuances and exuberant bombast, especially in the czardas of the final movement, but none of the subtlety of the night music, nor the harmonic and rhythmic complexity of later Bartók. I was pleased to find that the music of Sándor Veress (1907-1992), who was a piano student of Bartók and later his assistant at the Hungarian Academy of Sciences, fits better into my idea of what modern Hungarian music should sound like. The trio dates from 1954 and incorporates Schoenberg's 12-tone method of composition, thus providing a convincing hybrid of the styles of two of my favourite composers. Veress' music was a welcome discovery for me, and I look forward to hearing more of this under-sung composer.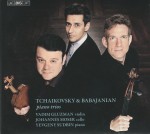 Tchaikovsky & Babajanian features violinist Vadim Gluzman, pianist Yevgeny Sudbin and Canadian-born cellist Johannes Moser (BIS-2372 SACD bis.se). The bread and butter of this disc is the Tchaikovsky Piano Trio in A Minor, Op.50 which receives a stellar performance, amply illustrating the points addressed in the comprehensive liner notes by Horst A. Scholz. But of more interest is the Piano Trio from 1952 by Armenian composer Arno Babajanian (1921-1983) who was previously unknown to me. The work is both rooted in the Romantic world of Rachmaninoff and imbued with folkloristic flourishes from Babajanian's native land. The notes point out that it was written under the constraints of the Stalin regime and go on to say that after Stalin's death in 1953, Babajanian's style opened up to embrace atonality, aleatoric music and microtonality, among other modern techniques. It makes me wish we were presented with a later example of his work, but my preferences notwithstanding, this is a solid composition that holds its own in a crowded field of late-Romantic chamber music, and once again the performance is committed and convincing. The "encore" piece on this CD is Sudbin's trio arrangement of the Tango from Alfred Schnittke's Concerto Grosso No.1 for two violins, harpsichord and strings from 1976, which draws this eclectic disc to a somewhat tongue-in-cheek conclusion.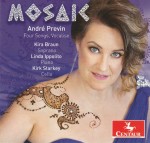 This year saw the passing of numerous cultural icons, but two in particular are brought together on Kira Braun's new disc Mosaic (Centaur Records CRC 3779 centaurrecords.com), Glenn Gould Prize-winner André Previn and Nobel Prize Laureate Toni Morrison. Previn first set the poetry of Morrison in the cycle Honey and Rue in 1992 for soprano Kathleen Battle, jazz trio and symphony orchestra. Two years later he went to the well once more, to set Four Songs for the more modest forces of soprano, cello and piano. On this disc Braun is joined by cellist Kirk Starkey and pianist Linda Ippolito in performances recorded February 23, 2019 just three days before Previn's death at the age of 89. Morrison died just six months later making this an apt memorial tribute, although that was not the intention of the recording. Braun's voice is well suited to the dark opening poem Mercy, the wistful Shelter and the concluding poem The Lacemaker, but I wish there was a little more edge to the brash and boastful Stones. Starkey's cello is warm and lyrical throughout and Ippolito's accompaniment balanced and tasteful. Although Braun's diction is clear, I wish the texts had been included, along with some information about the composer and poet, their fame notwithstanding. The disc concludes with Previn's Vocalise written for, and first recorded by, Sylvia McNair and Yo-Yo Ma with the composer at the piano in 1995. It makes a beautiful conclusion to this all-too-brief, 22-minute tribute.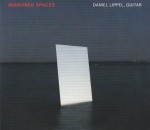 One disc I'll certainly not be able to do justice in this limited space is guitarist Daniel Lippel's double CD Mirrored Spaces (FCR239 NewFocusRecordings.com). I would normally be daunted by the prospect of two and a half hours of solo guitar music, but to my delight Lippel has produced such a diverse program that I didn't notice the time passing. First and foremost, let me state that although he is a truly accomplished classical guitarist, from the dozen composers represented here, there are very few offerings that would be at home on a traditional Spanish guitar recital. Even in pieces such as Lippel's own Reflected with its quasi-Renaissance feel, our equilibrium is thrown off-kilter by rapid microtonal passages. A number of the pieces involve electronics, live or otherwise. One that particularly struck me was Christopher Bailey's Arc of Infinity in which I found myself wondering "What if?" the subtle electronic part was transcribed for live cimbalom – how different would that piece be? At any rate, it is extremely effective. While most of the recital is played on a traditional nylon string acoustic guitar, a number of tracks employ an electric instrument, from the gentle harmonics of Sidney Corbett's Detroit Rain Song Graffiti, to the distortion, feedback and note bending of Lippel's concluding Scaffold (live). Interspersed throughout the two discs are the nine movements of Kyle Bartlett's Aphorisms, all using a traditional Spanish guitar, but utilizing a number of extended techniques. If you think you already know what a guitar sounds like, or think that a double CD would be a bit "much of a muchness," I urge you to check out this remarkable disc.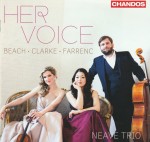 Last month I wrote about Rebecca Clarke's Viola Sonata, and the controversy it caused at the Elizabeth Sprague Coolidge-sponsored competition where the judges considered that such a beautiful piece "could not have been written" by a woman. This month Clarke has reappeared on my desk with another work that also was a runner-up in that Berkshire Festival of Chamber Music Competition, the Trio from 1921. Her Voice features the Neave Trio playing works by Clarke, Amy Marcy Cheney Beach (1867-1944) and Louise Farrenc (1804-1875) (Chandos CHAN 20139 naxosdirect.com/). Although Clarke (1886-1979) was a generation younger than Beach, her trio was written 17 years before that of her older colleague. Beach's Trio, Op.150 was a mature work, written in late-Romantic style while showing the influence of French Impressionism. French composer Farrenc on the other hand, whose Trio No.1 Op.33 dates from 1843, writes in a much more Germanic fashion, honouring the genre's origins with Haydn, and more specifically the music of Beethoven. As a matter of fact, as an amateur who has enjoying playing Beethoven trios, I feel that Farrenc's is a welcome contribution to the repertoire and I'm glad that it has come to light. Kudos to the Neave Trio for continuing to bring lesser-known works to life in sparkling fashion.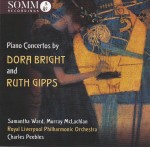 Two more composers previously unknown to me appear on the next disc, Piano Concertos by Dora Bright and Ruth Gipps (Somm Recordings SOMMCD 273 somm-recordings.com/). Both English, Bright lived from 1862-1951 and Gipps from 1921-1999. Bright was an accomplished and celebrated pianist of whom Liszt said "Mademoiselle, vous jouez a merveille!" and who was described by George Bernard Shaw as "a thorough musician." In 1888 she became that first woman awarded the Lucas Medal for Composition, and, after leaving the Academy of Music in London, established herself as a double threat, performing her own Concerto in A Minor at the Crystal Palace in 1891. That impressive work is featured in its first recording on this disc with Samantha Ward as soloist.
Gipps was also a stellar pianist, celebrated as a child prodigy both as performer and composer. A hand injury thwarted her performing career, but she then focused on composition and added conducting to her portfolio, becoming the first notable British woman in the field and founding several orchestras. She went on to produce five symphonies and several significant concerted works. Her Piano Concerto in G Minor dates from immediately after the Second World War and Ambarvalia, Op.70 is from 1988. Both are performed with conviction by Murray McLachlan. The Royal Liverpool Philharmonic Orchestra's nuanced performances on this important disc are directed by Charles Peebles.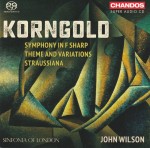 Erich Wolfgang Korngold (1897-1957) was another child prodigy. Born in Vienna, his ballet Der Schneemann (The Snowman) caused a sensation when he was just 11, and his Second Piano Sonata, written at 13, was played throughout Europe by Artur Schnabel. At 21 his opera Der Tote Stadt (The Dead City) was produced in Hamburg and Cologne. Korngold composed a wealth of concert music and six operas, but is best known for the Hollywood film scores he wrote following an invitation to America from director Max Reinhardt in 1934. He stayed in Hollywood for the duration of WWII, and never returned to his homeland. Although his film scores were a huge success, revolutionizing the field along with Max Steiner and Alfred Newman, his later concert music was dismissed by the critics and cognoscenti of the time who were by then focused on the post-war avant-garde doctrines of Boulez and Stockhausen. The Symphony Op.40, was begun in 1947 while on vacation in Canada and completed in 1952. With its lush orchestration, rich melodic content and cinematic scope, the symphony was rejected by the cultural powers that were, and was not revived until the 1970s when Korngold's star began to rise again. Korngold: Symphony in F Sharp; Theme and Variations; Straussiana is a new recording on the Chandos label featuring Sinfonia of London under John Wilson (CHSA 5220 naxosdirect.com/). It is a stunning realization of the symphony, but unfortunately I find the companion pieces – one written for school orchestra and the other a pastiche – to be just too much fluff. But the symphony is well worth the price of admission.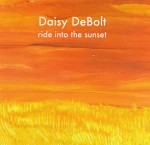 The final disc is a little strange in that it no longer exists as such. Daisy DeBolt – Ride Into the Sunset was a limited edition archival collection produced by George Koller for a memorial tribute to DeBolt at Hugh's Room back in 2011. Although perhaps best known as half of the iconic Canadian acid-folk duo Fraser & DeBolt, active in the late 1960s and early 1970s, DeBolt's career continued as a solo artist active on the concert stage, composing for the National Film Board and participating in various theatrical productions throughout her lifetime. The recordings included in this compilation date from as early as 1971 – a track with Allan Fraser, presumably an outtake from their first album – right up to four tracks from 2008 co-written with Koller. There's a 1975 DeBolt composition which she later choreographed for Ballet Ys, and eight tracks from the 1989 cassette-only release Dreams Cost Money. This latter features a number of familiar names including Robert David (woodwinds), David Woodhead (bass), Brent Titcomb (vocal and percussion), Chris Whitely (trumpet), Zeke Mazurek (violin) and Scott Irvine (tuba) to name but a few. Fraser & DeBolt were a formative influence on me and it is a great pleasure to discover this trove of material as a reminder of just how innovative DeBolt was. Last month DeBolt's estate decided to reissue Ride Into the Sunset digitally. It is available on all the major platforms, including iTunes, Apple Music, Spotify, Pandora and CD Baby.
We invite submissions. CDs, DVDs and comments should be sent to: DISCoveries, WholeNote Media Inc., The Centre for Social Innovation, 503 – 720 Bathurst St. Toronto ON M5S 2R4.
David Olds, DISCoveries Editor
discoveries@thewholenote.com