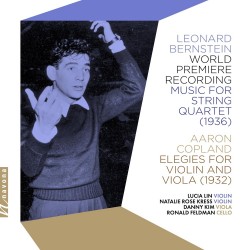 Jumping the gun a wee bit, I'd like to start with a world premiere recording of Leonard Bernstein's "long lost" Music for String Quartet (1936) that will not be released officially until September 8 (Navona Records nv6577 navonarecords.com). Composed by an 18-year-old Bernstein during his studies at Harvard, the piece has been "steadfastly shepherded from its re-discovery to this historic release" by former Boston Symphony Orchestra librarian John Perkel who discovered it in the Library of Congress. The two-movement work lasts just over ten minutes, beginning with an extended angular, though melodic, dance-like fast movement followed by a brief and somewhat mournful slow one. It's not clear whether this latter, recently found in the Library of Congress, was intended as a final movement – it ends somewhat inconclusively with a pizzicato pattern fading into oblivion. Complete or not, this is an interesting addition to the string quartet repertoire and an important key to understanding the young Bernstein who would go on to become such an iconic figure in American music. It is convincingly performed by violinists Lucia Lin and Natalie Rose Kress, violist Danny Kim and cellist Ronald Feldman. Kress and Kim are also featured in the contemplative duo Elegies for Violin and Viola by Aaron Copland, a musical mentor, collaborator and dear friend of Bernstein's.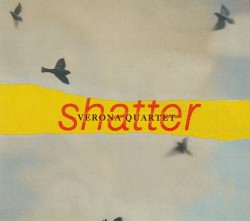 Sticking with American music for string quartet, Bright Shiny Things has recently released Shatter, three world premiere recordings performed by the Verona Quartet (BSTD-0186 brightshiny.ninja). The works include Julia Adolphe's Star-Crossed Signals, Michael Gilbertson's Quartet and Reena Esmail's Ragamala, which features Hindustani singer Saili Oak. It is this latter four-movement work that opens the disc and comprises almost half its length. Ragamala interweaves Eastern and Western traditions. Each movement opens the same way, inspired by Esmail's experience of attending concerts in India, with traditional drones here provided by the string quartet. Each movement is based on a different raag: Fantasie (Bihag); Scherzo (Malkauns); Recitative (Basant); and the Rondo (Jog) all sung by the sultry Oak over the lush textures of the strings. Adolphe's Star-Crossed Signals juxtaposes issues of empowerment and the assertion of dominance with a yearning for connection. The movement titles, DELTA X-RAY and KILO KILO come from nautical signal flags used by ships at sea, which the composer's father used in his early paintings. The first, which means "keep your distance" and "watch for my signals," is quite aggressive in contrast to the second, "I wish to communicate with you" in which the composer says "the strings gently reach for one another, enveloping and folding each line in a kind of dance." Gilbertson's Quartet was in progress during the 2016 U.S. presidential election, after which it became a personal reaction to those events. Feeling the need to compose something comforting, Gilbertson chose as the basis for the first movement Mother Chords a gesture like the pulsing chords that open Sibelius' Second Symphony. The second movement Simple Sugars, which Gilbertson describes as "carbs that are metabolized quickly and provide an immediate rush, but no nutritional substance" is an allusion to the movement's restless energy. The Verona Quartet rises to all the challenges of these diverse works.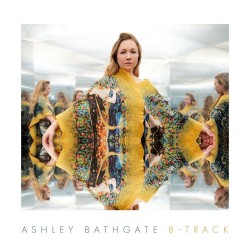 From quartets to octets now, in a manner of speaking. My first exposure to Steve Reich's music for multiple instruments of the same family was Vermont Counterpoint for solo flute and an ensemble of ten flutes, or pre-recorded tracks of the piccolos, flutes and alto flutes as performed by the soloist, this latter being the case in the 1982 Ransom Wilson EMI release. In 2003 Reich composed Cello Counterpoint for eight cellos on a joint commission for Maya Beiser (who will appear later on in the column). On the recent New Focus Recordings release 8-Track (FCR373 newfocusrecordings.com) we are presented with Ashley Bathgate's layered realization of the work, along with new compositions in the same format by Canadian/Icelandic composer Fjóla Evans and Americans Emily Cooley and Alex Weiser. Evans' Augun was inspired by a traditional Icelandic song and features overlapping motives to create shimmering, undulating textures. Cooley tells us that composing Assemble was like "assembling a sort of puzzle;" only at the end do the pieces come together in one voice. Weiser's Shimmer unfolds through gradual and dramatic changes, in a waxing and waning of the canonic relationship between each cello and the soloist. This is the closest in minimalist spirit to Reich's original which concludes this inspired disc. Bathgate's technical control and musicality shine through each of these contrasting works within a common context, resulting in a mesmerizing recording. My only concern is that the two most similar sounding works, Weiser's and Reich's, are placed side by side. I would have preferred the disc to begin with Cello Counterpoint thus presenting a context for the project.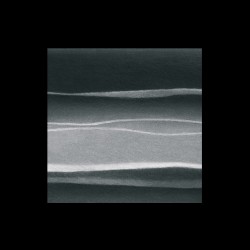 Kate Ellis' Strange Waves is a digital release that takes this same approach to the cello ensemble, but this time presenting an extended six-movement work by collaborating Irish composer Ed Bennett (Ergodos Records ergodos.bandcamp.com). Ellis has been a member of Crash Ensemble, Ireland's leading new music group, for the past two decades and currently serves as its artistic director. Strange Waves is a predominantly ambient work with the multiple cellos blending in a dreamlike texture of glissandos and drones creating a foggy haze into which field recordings from the County Down coast and Ireland's northernmost island, Rathlin in the North Atlantic, are subtly integrated. A truly meditative experience.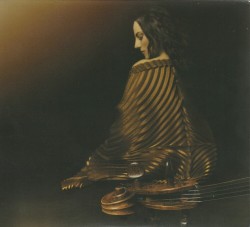 Infinite Bach is Maya Beiser's very personal take on the iconic Suites for Solo Cello by Johann Sebastian Bach (Islandia Music Records IMR012 islandiamusic.com/releases). In the words of Beiser, best known for her work as an avant-garde cellist, "I spent 2022, my 60th year of life, immersed in recording, and rerecording, deconstructing and decontextualizing, experimenting and exploring sounds, reverberations, harmonics in my converted barn in the Berkshires, Massachusetts, engaging with Bach's cello Suites. Having dedicated the past 35 years to creating new music, work that reimagines the cello on a vast canvas in multiple disciplines, I radically departed from the conventional classical cello sound. Yet, the Suites were ingrained in my daily practice. Even as I was getting ready to perform a new work by Steve Reich, Louis Andriessen, or David Bowie, I would still begin every day playing a movement from the Suites. Over the years I was experimenting with the process of unlearning the doctrine I was taught about this music, until last year when I took the time to relearn it anew." The result takes some getting used to, sounding at times as if recorded from a different room, with extreme reverberation sometimes supplemented with sympathetic drones and overlays, and some radically altered tempos. I also find the arrangement of the suites surprising. Spread over three discs (itself not unusual) Beiser has chosen to pair the suites according to major and minor tonality, the G major and C majors (nos.1 and 3) on the first disc, the D minor and C minor (2 and 5) on the second and the E-flat major and D major (4 and 6) on the last. While my initial reaction was that this was too much of the same mood on each disc, I eventually came around to appreciate the continuity. And once I let myself let go of expectations and prejudice about how these works were supposed to sound, I was able to immerse myself in Beiser's vision and enjoy the ride. Although Infinite Bach is available in Full Dolby Atmos Spatial Audio via Apple Music and in an Immersive Binaural Mix for enhanced headphone listening, I must say the plain old-fashioned CDs sound pretty good on my old stereo system too.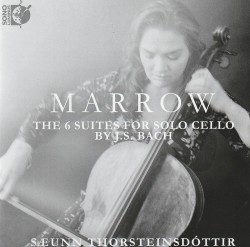 Sæunn Thorsteinsdóttir is another cellist who has made the Bach Suites "her own," re-interpreting them, although in a much less radical way than Beiser. In the liner notes to Marrow – The 6 Suites for Solo Cello by J.S. Bach (Sono Luminus DSL-92263 sonoluminus.com) she says "There is an Icelandic saying, 'mergur málsins,' which directly translates to 'the marrow of the matter,' and these Suites, to me, speak directly to the essence of being human. As for many cellists, these Suites have been my steady companion throughout my life with the cello, first as a vehicle to learn counterpoint, style, and harmony, then as material with which to explore personal expression and interpretation, and today they are a mirror, reflecting the deeper truth of the human experience, revealing more layers of meaning each time I come back to them." Thorsteinsdóttir feels Bach "pushes the boundaries of the expressive and technical possibilities of the instrument with each succeeding Suite." As she began playing the Suites as a set, she heard a dramatic through-line begin to emerge, finding the first "innocent" and the second as a "first taste of bitter disappointment," in the third a "renewed optimism," the fourth "bold and brash," with "dark tragedy" in the fifth and "glorious redemption" in the sixth. To clearly illuminate this arc, she presents the Suites without the printed repeats "so that we may more closely follow this universal storyline." This also has the advantage of making it possible to present them all of a piece, in one sitting. The two CDs of this set clock in at 90 minutes, and present the suites in numerical order conserving the original major-minor-major groupings. The performance is exhilarating and makes for a satisfying, if intense, listening session.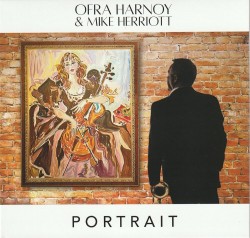 The final selection also features solo cello, but in a very different context. In a trip down memory lane, Portrait (mikeherriott.com/bwg_gallery/discography) featuring cellist Ofra Harnoy and her life partner trumpeter Mike Herriott, takes me back to my days as a music programmer at CJRT-FM. Harnoy's RCA discs of Haydn and Vivaldi concertos (several of which were world premiere recordings) with the Toronto Chamber Orchestra under the direction of former CJRT music director Paul Robinson were staples of our library. The current disc with the H&H Studio Orchestra, a hand-picked ensemble of Toronto's finest studio musicians, features many of the jewels of the operatic repertoire that were often heard during CJRT's exhilarating all-hands-on-deck fundraising campaigns. These include Una Furtiva Lagrima from L'elisir d'Amore, The Flower Duet from Lakme, Au Fond du Temple Saint from The Pearl Fishers, along with several selections from Porgy and Bess and Somewhere from West Side Story. These vocal treasures have been masterfully arranged by Herriott and feature cello and trumpet alternating in the solo roles. All the performances are outstanding and my only quibble is that overall mood, lyrical and slow moving, is a bit too similar from track to track. That being said, it's still a marvellous journey, which ends with Harnoy's moving transcription for cello and trumpet of Larry Adler and Itzhak Perlman's languid duet arrangement of the iconic Summertime.
We invite submissions. CDs, DVDs and comments should be sent to: DISCoveries, WholeNote Media Inc., The Centre for Social Innovation, 503 – 720 Bathurst St. Toronto ON M5S 2R4.
David Olds, DISCoveries Editor
discoveries@thewholenote.com