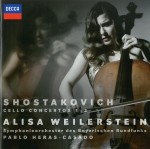 I don't quite know where to begin. I can only imagine Bruce Surtees' feelings over the past month as he approached the formidable task of assessing the 200 discs and wealth of literature in the Mozart 225 set. And then to realize that he also immersed himself in the complete symphonies and concertos of Shostakovich…the mind just boggles. But it did give me a good excuse to hold back a disc that I would normally have sent to him:
Shostakovich – Cello Concertos 1 + 2
featuring
Alisa Weilerstein
and the
Symphonieorchester des
Bayerischen Rundfunks
under
Pablo Heras-Casado
(Decca 483 0835)
. "A young cellist whose emotionally resonant performances of both traditional and contemporary music have earned her international recognition…Weilerstein is a consummate performer, combining technical precision with impassioned musicianship." So stated the MacArthur Foundation when awarding Weilerstein a 2011 MacArthur "Genius Grant" Fellowship.
With four previous Decca titles (ranging from solo suites by Kodály and Golijov to concertos of Dvořák, Elgar and Carter) and a host of collaborative recordings to her credit, Weilerstein maintains the high bar she has set for herself by tackling two of the most iconic works in the 20th-century canon. It must have been a daunting undertaking, especially considering that both concertos were written for that towering figure Mstislav Rostropovich. However, as was the case of the Carter concerto where she had the privilege of working with the 103-year-old composer prior to her recording, we are told in the liner notes that Weilerstein had the opportunity to gain some firsthand knowledge from the dedicatee. "I played the First for Rostropovich when I was 22. He was a titanic presence, sitting very close, his feet almost touching mine. I played the entire concerto for him without stopping. He then gave me a piece of advice that I will never forget: he said that the emotions that the performer conveys while playing Shostakovich's music should never be 'direct' or 'heart on sleeve' in a Romantic sense. That is not to say that the music is unemotional, but rather that it presents a unique challenge to the performer, who must convey a kind of duality – conveying intense emotion that has somehow to be concealed at the same time." Now, a dozen years later, I would say that Weilerstein has accomplished just that.
Of course this new release drove me back to my archives to find the recordings I cut my teeth on, Rostropovich with Ormandy and the Philadelphia Orchestra (No.1) and with Ozawa and the Boston Symphony (No.2) – thank goodness my vinyl collection is still intact – and I was struck by two things. First was just how good the DG LP with Ozawa recorded in 1967 still sounded (clicks and pops notwithstanding) – especially the explosive power of the big bass drum punctuating the extended cello cadenza of the opening Largo and the clarity of the contrabassoon lines. The second was how well Weilerstein's performances stood up to the comparison. In my mind's ear Rostropovich had a god-like power and intensity beside which I thought any mere mortal would pale. But Weilerstein's command of her instrument, and her understanding of the music as detailed in her insightful comments in the notes, prove her more than equal to the task. (Of course I will not be trading in my vinyl anytime soon.)
The recordings took place in the Herkulessaal in Munich in September 2015 and are both impeccable. The First was captured in a closed session under studio conditions while the Second was recorded during a concert later the same week. Try as I might I can't hear any evidence of the audience, but there is certainly the dynamic sense of excitement of a live performance. I'm very happy to add this new offering to my collection.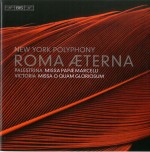 The next disc provided a very different listening experience. Roma Aeterna – Rome the Eternal City – features the outstanding vocal quartet New York Polyphony in works by Palestrina and Victoria (BIS 2203 SACD). The first thing that struck me was the gorgeous acoustic space of the recording, gloriously captured by engineer Jens Braun in Omaha's St. Cecilia Cathedral in August 2015. The core members of the group – Geoffrey Williams, countertenor; Steven Caldicott Wilson, tenor; Christopher Dylan Herbert, baritone; and Craig Phillips, bass – are joined by countertenor Tim Keeler, tenor Andrew Fuchs and bass-baritone Jonathan Woody as required by the repertoire which ranges from four to six voice settings. But it is hard to realize that all this glorious sound is emanating from such small ensembles. The one voice per part does assure clarity however, complemented by precise diction and impeccable intonation.
Part of this clarity is actually built into the compositions. In Ivan Moody's excellent program notes we are told that Palestrina's Missa Papae Marcelli for six voices was for a time thought to have been written around 1565 in response to the injunctions of the Council of Trent (1562), which stipulated that music must allow the texts of the Mass and Offices to be heard as clearly as possible. This mass was even believed by some – Agostino Agazzari is cited – as having single-handedly saved ecclesiastical polyphony from being banned in the wake of the changes brought about by the Counter-Reformation. The notes go on to say however that it may have been composed as early as 1555, independent of the edicts, to celebrate the election of Pope Marcellus II. Be that as it may, Missa Papae Marcelli does exemplify the concerns of the Council of Trent in its simplicity and beauty, which have kept it in the repertoire for nearly five centuries. In this presentation it is sung with plainchant Propers for Easter Day interspersed.
The other major work on the disc is Missa O Quam Gloriosum for four voices by Spanish composer Tomás Luis de Victoria who succeeded Palestrina as chapel master at the Roman Seminary in 1571. He was ordained in 1575 and enjoyed a very successful career in Rome until returning to Spain as chaplain to the dowager Empress Maria in 1587. The mass presented here is one of 15 "parody Masses" he wrote, this one based on his own joyful All Saints' Day motet O Quam Gloriosum. Rather than plainchant, in this performance the motets Gaudent in coelis by Victoria and by Palestrina are interspersed between the movements of the mass.
The disc opens with one of the four Marian antiphons, the brief Regina Caeli in a setting for four voices by Francisco Guerrero (1528-1599) that beautifully sets the stage for what is to come. The two main works are separated by Palestrina's six-voice Tu es Petrus (You are Peter, and on this rock, I will build My church…) and the recital ends with his quiet Sicut cervus, a psalm text describing the soul's yearning for God.
Concert Note: New York Polyphony will present its Christmas program "Sing Thee Nowell" in a matinee for Fondation Arte Musica in Montreal on December 4 at Salle de concert Bourgie.
One of the most intriguing discs to come my way this month is a solo project from flutist Robert Dick. Many of you may have been curious about that bizarrely shaped instrument pictured in the hands of Claire Chase on the cover of October's The WholeNote. The contrabass flute, about four metres of tubing bent into something resembling the number four, stands on the floor with its vertical shaft towering above the flutist's head before bending in a triangle with a horizontal extension that includes an oversized mouthpiece. If you didn't get to Chase's "Density 2035" last month and want to hear just what this "gentle giant" is capable of, I suggest you pick up Dick's Our Cells Knowon John Zorn's Tzadik label (TZ 4015 tzadik.com). The disc is a series of six improvisations that really explore and exploit the surprising sound world of this distinctive instrument.
Dick is a virtuoso performer on all the members of the flute family, known for his interest in contemporary forms and his encyclopedic knowledge and command of extended performance techniques, many of which he himself developed and has documented in his book The Other Flute: A Performance Manual of Contemporary Techniques. At Zorn's suggestion this disc focuses solely on the contrabass flute. At first listen it was often hard to realize that the myriad percussive sounds were actually being produced on a flute. As with John Cage's prepared piano, which turned that familiar instrument into a percussion orchestra, we are presented with sounds that just don't seem to come from the instrument we are seeing. Thanks to the resonant properties of the contrabass – it looks to be about four times the diameter of a regular flute – the physical sounds of the instrument itself are amplified as if under a microscope. From the opening notes of Mitochondrial Ballet I found myself disoriented, wondering how this "electronic" music was being produced acoustically. The multiphonics sounding simultaneously with an underlying rhythm track provided by the sound of the fingers on the keys, all sustained by Dick's circular breathing, is almost surreal.
The six tracks, averaging about eight minutes each, all focus on different aspects of the instrument or playing techniques. Aura Aurora is primarily melodic, weaving harmonic overtones with some truly beautiful pure low tones. Afterimage, Before for Ginger Baker, as you might expect, is reminiscent of the iconic drummer's extended solos achieved here almost entirely with fingers tapping on the instrument's keys and breath sounds that somehow resemble cymbal strikes and tom-tom beats. Efflorescence returns to the lowest register of the instrument in a very calm, melodic treatment which eventually leads to eerie whistling and humming in counterpoint with the low resonance. On the Restless Seas of Time combines percussive finger work with a variety of breath techniques and flutterings. The title track, a memorial to Dick's friend Stephanie Stone, closes the disc in an extended meditative state.
While I feared that an entire disc of solo contrabass flute might prove to be a bit "much of a muchness," I must say that Dick kept my attention throughout his journey and I have found myself returning to the disc time and again over the past few weeks.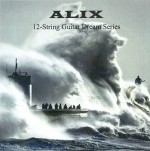 Like everyone I suppose, I am always gratified to find out that someone is actually reading these things I write and even paying attention. I received a note from Alex Rodger (alex.rodger@yahoo.ca) recently saying that he remembered I mentioned in passing some months ago that I played 12-string guitar and he thought I might be interested to hear his own creations for that instrument. He included a disc of his "Greatest Hits" titled Alix – 12-String Guitar Dream Series, solo instrumental pieces couched in the lush resonance of his Takemine guitar. Rhythmic and modal, his playing, as he himself points out, is reminiscent of the guitarists of those iconic 70s bands Yes and Genesis. Using a combination of strumming and clever fingerpicking, the Dreams are mostly a wash of harmony with some subtle internal melodies, all quite accomplished. Thanks for sending them along, Alex.
We welcome your feedback and invite submissions. CDs and comments should be sent to: DISCoveries, WholeNote Media Inc., The Centre for Social Innovation, 503 – 720 Bathurst St. Toronto ON M5S 2R4. We also encourage you to visit our website thewholenote.com where you can find added features including direct links to performers, composers and record labels, "buy buttons" for online shopping and additional, expanded and archival reviews.
David Olds, DISCoveries Editor
discoveries@thewholenote.com