Some of my favourite memories are from road trips taken with my dear friend André Leduc. We met in the lobby of Jane Mallett Theatre at the intermission of an Esprit Orchestra concert sometime in the mid-1980s. I was already well versed in the 20th-century canon, and was quickly drawn to the outgoing personality of this musical naïf whose curiosity about the subject seemed boundless. I told him about my radio show Transfigured Night on CKLN-FM and he told me about his work as a commercial photographer. We became fast friends and later travelling companions. Our journeys most often have contemporary music at their heart – Montreal for the founding of the Canadian Electroacoustic Community, Ottawa for QuartetFest, Montreal again (and again) for a number of festivals and conventions – although our trip to Quebec City and on up the north shore to Sainte-Anne-de-Beaupré and beyond to see the arrival of the snow geese, was strictly a pleasure outing as I recall. But there is always an aspect of modern art involved too, with gallery visits an integral part of our adventures. One memorable trip around the turn of the new millennium combined these two shared loves in a most wonderful way. The timing of our visit to Montreal on that occasion coincided with a retrospective tribute at the Montreal Museum of Fine Arts to Jean-Paul Riopelle who had died earlier that year, and a concert by Quatuor Molinari featuring one of our shared favourites of the genre, Lutosławski's String Quartet.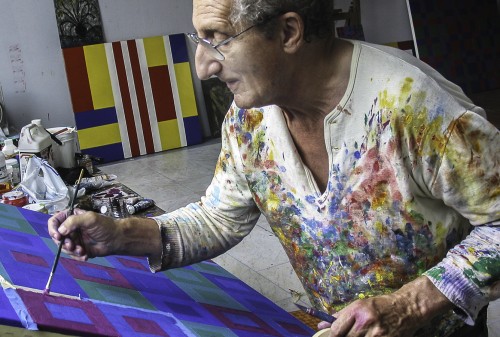 An unintended highlight of that trip was meeting the artist who was the namesake of the quartet, Guido Molinari and spending time in his studio. This was at the instigation of founding first violinist Olga Ranzenhofer who, charmed by my friend, encouraged us to "give Guido a call" when she found out our interest in contemporary visual art. We did, and found him to be a most amiable host, generous with his time so long as we were willing to wait while he put a few more brush strokes on "before the paint dries." That is when André took the photo seen here of Molinari at his work bench. On many of our trips, and during two decades as photographer for New Music Concerts before retiring, André captured some of the most significant musical voices of our time. You can find his book of Canadian composer portraits, Composers In My Lens, at musiccentre.ca/node/144800.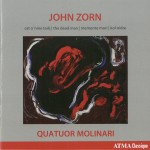 I believe it is safe to say that the Molinari String Quartet is the most active chamber ensemble in Canada devoted almost exclusively to the performance and propagation of contemporary music. They have just released their 13th disc on the ATMA label, as well as having contributed to portrait recordings of Jim Hiscott and Otto Joachim over the years. In addition, the Molinaris have been a prime factor in the development of the genre by hosting, since 2002, a biennial international string quartet competition for composers under the age of 40. Three of their ATMA discs have been devoted to early laureates of the competition.
Their most recent release, following discs of music by international luminaries Gubaidulina, Kurtág and Schnittke, features four works written between 1988 and 1996 by American John Zorn (ATMA ADC2 2774 atmaclassique.com/En). The disc begins with what has become Zorn's most frequently performed work, Cat O' Nine Tails, a pastiche often reminiscent of a Roadrunner cartoon. Although in one movement, it is constructed of many brief fragments, in the words of Ranzenhofer: "By turns sparkling or gritty, virtuoso improvisations, musical allusions, harmonic sequences and sonic mash-ups – all these components freely combine in this dazzling, disconcerting and droll work." Zorn himself suggests that the next work, The Dead Man, is "like the soundtrack of a sordid and sadomasochistic film set in a gloomy New York or Tokyo basement." Although divided into 13 movements, again they are brief fragments ranging from 20 to 90 seconds, juxtaposing wild mood swings.
The final two works are much darker. Momento Mori is presented as an emotional autobiography composed in 1992 and is dedicated to Zorn's longtime collaborator Ikue Mori. At 27 minutes it is by far the most substantial work on offer here. While it too juxtaposes a plethora of moods, from meditative repose to extraordinary tension, there is none of the comic flamboyance of the preceding tracks. The final work, Kol Nidre, was written "in a single 30-minute burst of inspiration" according to Zorn, and Ranzenhofer says it "uses music stripped of all impure sonorities to reveal a world of inner peace." For its seven-minute duration we are drawn into an almost medieval stasis of entirely tonal, gentle unison melody more suggestive of Arvo Pärt, or Shostakovich in his more contemplative moments, than the Zorn of the earlier works. Throughout the disc the Molinaris are superb, finding just the right balance between abrasive exuberance, virtuosic hilarity, quiet desperation and haunting beauty as required.
One of my "trips of a lifetime" on which André did not accompany me, was a ten-day visit to Iceland in 2012 with my wife Sharon at the invitation of New Music Concerts' colleague Robert Aitken and his late wife Marion. Of course there was music and art involved – Bob seems to know every composer and musician on the island and is also an aficionado of modern art – but also museums. Iceland seems to have a museum for everything, including expected topics like Vikings, glaciers, volcanoes and whales, but some surprising off-beat subjects as well, like punk music, herring and penises (Icelandic Phallological Museum) – we did not visit that one. It was an amazing trip in the last days of June and early July, with the sun barely disappearing below the horizon for an hour each night. Although we did not circumnavigate the island, we did travel to many of the (incredible) landmarks including Snæfellsjökull, a 700,000-year-old glacier-capped stratovolcano which was the starting point of The Journey to the Centre of the Earth in Jules Verne's novel; Thingvellir National Park, home of Althing, the world's first parliament which was convened there in 930 and continued on that site until 1798, and is also the meeting point of the North American and European tectonic plates which are gradually moving apart at a rate of a millimetre or two per year; a number of unbelievable waterfalls, various hot springs and geysers and the black sand beaches of Vik. Most striking was the stark, treeless landscape and the barren hillsides dotted with Iceland's miniature horses and endless sheep. And why am I telling you all this? I believe that trip gave me the background to truly appreciate the starkness of the next disc.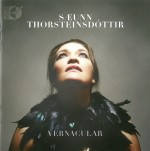 Icelandic-born cellist Sæunn Thorsteinsdóttir has just released Vernacular (Sono Luminus DSL-92229 saeunn.com/vernacular) which includes world premieres of solo works written for her by three of the current generation of Icelandic composers, and a contemporary classic by senior composer Haflidi Hallgrímsson (b.1941). Composer Hallgrímsson is a cellist in his own right (and incidentally was in the trio ICE with Robert Aitken and composer/pianist Thorkell Sigurbjörnsson during the 1970s). He composed Solitaire for solo cello in 1969 and it was his first published work, later revising it to its current form two decades later. Thorsteinsdóttir says that from the first time she played the work she felt a connection "not only to the music, but also beyond the music." The idiomatic writing is like "playing [with Hallgrímsson's] hands… getting to know a fellow musician in this physical way is satisfying and humbling at the same time." After the extremes of the first three pieces on the disc, Solitaire is a welcome relief. A five-movement work, it opens with Oration employing simultaneous left-hand pizzicato beneath a soaring bowed melody. Serenade is played entirely without the bow while the central Nocturne is richly melodic in a meditative way. This is followed by a Dirge which the composer says "is lyrical in nature and hints at darker thoughts, leading eventually to the last movement which is a lively and energetic Jig." This performance makes clear why Solitaire is regarded as a seminal and significant exploration of "the sound world… available to the contemporary cellist," at least as perceived in 1969.
As mentioned, the recent works on this recording explore more extreme notions. The disc begins with Páll Ragnar Pálsson (b.1977), a rock musician who has recently come to the world of art music. He studied with Helena Tulve at the Estonian Academy of Music where he received a PhD and in 2017 released his first album as a composer. In 2018 his Quake for solo cello and chamber orchestra was a selected work at the International Rostrum of Composers in Budapest, which marked his first collaboration with compatriot Thorsteinsdóttir. The solo work Afterquake is a direct outgrowth of that project. This is followed by 48 Images of the Moon by Thurídur Jónsdóttir (b.1967), which combines solo cello with quiet natural sounds from a field recording made at night in an Icelandic fjord by Magnús Bergsson. The entire piece takes place in barely audible gestures with only a rare pizzicato pop rising above the field. Halldór Smárason (b.1989) contributes a three-movement work simply titled O. Thorsteinsdóttir tells us that "In Iceland, darkness in the winter months has created a need for light and warmth for centuries, and candles continue to be a source for both. This piece explores the meaning and associations with the intimacy, warmth, and the wild yet contained energy of the light of the candle and its effect on the darkness surrounding it." As effective as this depiction is, it only makes me the more content to have visited Iceland during the days of the midnight sun.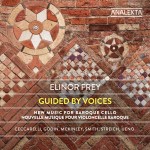 This month's final disc also contains new works for solo cello, but with a very different premise. Guided by Voices – New Music for Baroque Cello (Analekta AN 2 9162 analekta.com/en/) features works written for Elinor Frey. Frey, an accomplished cellist comfortable in the music of all eras but particularly known for her early music acumen, says: "When modern composers write a new piece for 'Baroque' cello it becomes an instrument of today, helping to expand the sound worlds of both the cello and new music audiences." The breadth of vision and diversity of voices represented here certainly support this. Scott Edward Godin's piece, which gives the album its title, "draws inspiration from the life and oeuvre of Saint Hildegard of Bingen, […and] exploits the obsessiveness found within recurring melodic units of Hildegard's music, deconstructing these units before reconstructing them in a new musical framework." Those familiar with Hildegard's long, sustained melodies may be surprised by the level of activity in Godin's creation, but strains of her melodies do peek through the busyness.
Minerva, says composer Lisa Streich "imagines a goddess who, almost like an octopus, helps with or stands for many things at once – a goddess of everything. She reminds me of the human being of the future, a human fully endowed with equal rights, who, according to Global Gender Gap Reports, should exist in 217 years." Frey dedicates her project to Maxime McKinley with gratitude for his "humour and kindness." McKinley's own contribution, Cortile di Pilato, was inspired by a courtyard in Bologna surrounded by the Basilica of Santo Stefano, a complex of four churches built on a foundation begun in the fifth century that was itself built on a temple dedicated to the Egyptian goddess Isis. He says: "I was interested in the 'copresence' of different epochs in the same place that create a thread among many centuries. This pleased me, particularly when writing a piece for Baroque cello and harpsichord." For this performance Frey is joined by Mélisande McNabney.
Like the McKinley, Linda Catlin Smith's Ricercar was commissioned with the support of Toronto philanthropist, the late Daniel Cooper. It is perhaps the most "Baroque" of the pieces on offer here; played with little or no vibrato, the melody gently unfolds and grows. But gradually it expands through other sound worlds as the melody is supported by double and triple stops that produce some close harmonies, some wide interval jumps and, toward the middle of the piece, a driving rhythmic pulse. This eventually gives way to a quiet section before building dramatically again and receding once more. Ken Ueno says Chimera "is a kind of meta-suite in five movements, one that traverses time. Starting with a contemporary recasting of a prelude, the following movements gradually approach a ghost of the Baroque." Frey seems at home in all the realms this journey presents her with, be it just intonation, microtonality, hectic virtuosity or stasis. It is our good fortune to accompany her.
We invite submissions. CDs and comments should be sent to: DISCoveries, WholeNote Media Inc., The Centre for Social Innovation, 503 – 720 Bathurst St. Toronto ON M5S 2R4.
David Olds, DISCoveries Editor
discoveries@thewholenote.com