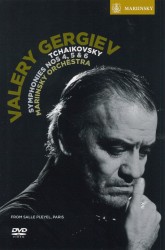 Tchaikovsky - Symphonies 4-6
Mariinsky Orchestra; Valery Gergiev
Mariinsky DVD MAR0513; Blu-ray BD MAR0515
Philips issued CDs of these three symphonies with Gergiev conducting the Vienna Philharmonic in live performances from 2002, 1998, and 2004. Although they were very well received in some quarters, I found them to be quite perfunctory. Here is a wiser Gergiev in 2010 with his own orchestra live from the Salle Pleyel in Paris and the performances are polished, spectacular and substantial.
The first movement of the Fourth Symphony sounds eccentrically slow on first hearing but after listening to all three symphonies it now fits perfectly into Gergiev's new understanding and appreciation of Tchaikovsky's music. The Fifth Symphony is unusually stirring from the first notes to a hectic, triumphant finale. The Sixth can be driven too hard as Gergiev did in the Vienna recordings but here it unfolds with unusual respect and sensitivity. That is not to imply that it is not thrilling, which it assuredly is, but there is an atmosphere of inevitability throughout heard in no other performances that I know of. The tragic last movement, Tchaikovsky's valedictory address, is played with intense passion and is quite final. I "Do not go gentle into that good night," he seems to say.
There is a bonus in which Gergiev talks about Tchaikovsky's orchestrations with interesting observations. Not an overly large orchestra, about 50 players, the textures and balances are never obscured. For me, these extraordinary, vital performances set a new standard. Perfect sound and thrilling dynamics throughout make this Blu-ray disc an uncontested first choice. Enthusiastically recommended.