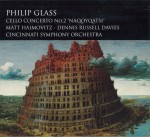 The terrific Matt Haimovitz is back with another fascinating CD, this time featuring the Cello Concerto No.2 "Naqoyqatsi" by Philip Glass (Orange Mountain Music OMM 0087). Long-time Glass champion Dennis Russell Davies provides excellent support with the Cincinnati Symphony Orchestra.
The bulk of the music dates from the 2002 score Glass wrote for Naqoyqatsi: Life as War, the third film in a Godfrey Reggio trilogy that featured only music and images. The prominent solo cello part was played by Yo-Yo Ma. When Glass became a creative director of the Cincinnati Symphony Orchestra in the 2011/12 season, a commission from the orchestra gave him the opportunity to re-work the film score as a full concerto for cello and orchestra.
It's not a concerto in the traditional formal or structural sense, but neither is it always what you might expect to hear if you are familiar with Glass' music. Glass acknowledges that the film's largely digital images steered him towards "a very acoustic, symphonic piece" which would make the images seem less synthetic and more approachable, thus hopefully making it easier for audiences to connect with the film.
There are seven movements, all shorter than eight minutes in length, with the solo cello third and fifth movements acting as connecting passages within the overall structure. The faster movements certainly have the typical Glass sound, but the cello writing throughout is contemplative and more rhapsodic than virtuosic. Haimovitz plays beautifully throughout this intriguing and highly satisfying work.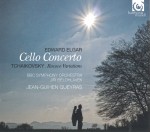 If you come across a performance of the Elgar Cello Concerto that puts the iconic Jacqueline du Pré recording with Barbirolli completely out of your mind, then you know you've found something really special. That's exactly what the French (but Montreal-born) cellist Jean-Guihen Queyras manages to do with his stunning new harmonia mundi CD, which couples the Elgar concerto with Tchaikovsky's Rococo Variations and two short pieces by Dvořák (HMC 902148).
It's clear from the opening solo bars of the Elgar that Queyras understands the inner soul of this quintessentially English work by the most English of composers. It's a simply beautiful opening — thoughtful, probing and expansive. Jiří Bĕlohlávek draws a performance from the BBC Symphony Orchestra that is perfectly attuned, catching the mood of wistful Romanticism with playing that always has weight and depth, but is never heavy.
The performance level never drops throughout the remainder of the CD. Dvořák's Rondo Op.94 and Klid (Silent Woods) Op.68/5 were originally written for cello and piano, and orchestrated by the composer in 1893, shortly before he began work on his Cello Concerto. Again, Queyras' tone is quite beautiful.
The Tchaikovsky Variations were extensively revised and rearranged, prior to publication, by the cellist Wilhelm Fitzenhagen, the composer's colleague at the Moscow Conservatory, not exactly with Tchaikovsky's approval, but apparently without much complaint either. It's still the version we usually hear. Another dazzling performance by Queyras rounds out a marvellous CD.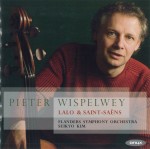 The Dutch cellist Pieter Wispelwey has compiled an extensive and impressively varied discography, ranging from the Bach Solo Suites (reviewed in this column last April) to works by Shostakovich, Ligeti and Britten. His latest CD on Onyx Classics pairs two rarely heard works: the Lalo D Minor Cello Concertoand theConcerto No.2,also in D minor, by Saint-Saëns (Onyx 4107).
Wispelwey is in terrific form; indeed, on the strength of these performances it's difficult to understand why we don't hear these two outstanding concertos more often. The Lalo is a powerful work with a charming slow movement. Wispelwey's line is strong and fluent, offering wonderfully assured playing with never a hint of empty bravura. The Saint-Saëns No.2 is a striking concerto that has been unjustly overshadowed by No.1, and reminds us just how much this often-marginalized composer has to offer. Wispelwey displays terrific agility in an extremely difficult and challenging work, with some particularly tender and heartfelt high register playing in the slow movement.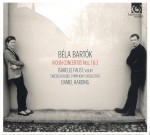 The Flanders Symphony Orchestra under Seikyo Kim provides top-notch support throughout, and also performs the filler on this CD, the Love Scene from Berlioz' dramatic symphony Roméo et Juliette. It's Berlioz at his best and beautifully performed, but this is a CD you'll be buying for the Lalo and Saint-Saëns.
Violinist Isabelle Faust and conductor Daniel Harding team up on another outstanding harmonia mundi CD, with marvellous performances of the Violin Concertos Nos.1 & 2 by Béla Bartók (HMC 902146). The orchestra is the Swedish Radio Symphony Orchestra; Harding has been their principal conductor since 2007. He has already recorded highly successful concerto discs with violinists Nicola Benedetti, Janine Jansen and Ray Chen, and this latest CD is the equal of any of them. Faust is a consummate artist, and her rapport here with Harding is palpable.
For many years the 1938 concerto we now refer to as No.2 was regarded as Bartók's only violin concerto, but 30 years earlier he had written a concerto for the violinist Stefi Geyer, with whom he was deeply in love. The relationship didn't last, though, with Geyer rejecting not only the composer but also the concerto. She did keep the manuscript the composer sent her, however, and bequeathed it to the Swiss conductor Paul Sacher, who conducted the premiere in Basel in 1958; it was published in 1959 as Violin Concerto No.1, Op.posth. In her preparation for this recording Faust went back to the various original sources for this early concerto, and discusses the process in fascinating detail in her excellent — and extensive — booklet notes. The depth of her understanding is evident in the depth of her interpretation; this really is an exceptional performance in all respects.
The same innate grasp of the material is just as evident in the Concerto No.2, which also receives an outstanding performance. What makes it even more special is that Faust and Harding choose to use the original ending for the work, which has no solo violin part over the closing bars. Zoltán Székely, for whom the concerto was written, asked the composer to write an alternative ending where the violin could play to the end of the work along with the orchestra and Bartók obliged. The original ending is well worth hearing!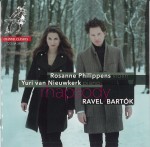 The young Dutch violinist Rosanne Philippens is a new name to me, but if Rhapsody, her debut CD on Channel Classics (CCS SA 35013), is anything to go by, we'll all be hearing a lot more of her in the future. She is accompanied by her regular keyboard partner Yuri van Nieuwkerk in a recital of works by Ravel and Bartók. This may seem like an odd pairing at first glance, but the performers note that both composers worked in a period when a wide range of musical styles — jazz and blues, for instance — were influencing the European musical world; almost all of the works here were written in the 1920s.
Ravel's Tzigane is given a straightforward but very solid performance, but the real Ravel gem here is the Violin Sonata No.2, which showcases Philippens' big, expansive tone. There is a perfect balance between the two performers in the first movement; a lovely Moderato: Blues middle movement; and some outstanding playing and great dynamics in the Perpetuum Mobile: Allegro finale.
The Bartók pieces are equally well-served, with just the right mix of spikiness and lyricism in the two Rhapsodies from 1928 and the Rumanian Folk Dances from 1915.
The final track is the short Scène de la Csárda No.4 – Hejre Kati by Bartók's fellow-countryman Jenö Hubay. Written some 40 years before the other works on the disc, it seems a bit of an odd choice, but it provides a rousing ending to an excellent debut CD that suggests there are great things ahead for this duo.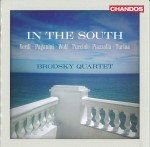 I must admit to being quite astonished to find that Britain's Brodsky Quartet has been around for over 40 years — two founder members are still there — and has over 60 recordings to its credit. Their latest Chandos CD, In the South (CHAN 10761) is typical of their wide-ranging and intelligent programming, exploring the attraction of the South in musical history, and its relationship with and influence on the North.
It's essentially a recital of short, almost light classical works by composers from both hemispheres, although the programmatic link does seem a little stretched at times. The Brodsky members play with a lovely sensitivity and a great dynamic range throughout the disc, and really seem to get to the heart of these works, which are not insubstantial despite their brevity.
Hugo Wolf's Italian Serenade opens the disc, followed by Puccini's soulful Crisantemi (Chrysanthemums). Verdi's String Quartet in E Minor, the composer's only work in the genre, was an attempt to marry the Italian vocal tradition with the German classical quartet form. Critical opinion differed on its success, but here it is handled quite beautifully and with great sensitivity; it's never too heavy or serious and the lyrical qualities are never over-stressed.
I don't recall ever having heard Turina's La oración del torero (The Toreador's Prayer) before, but it really is a quite beautiful and very effective work. Astor Piazzolla's Four, for Tango was written four years before the composer's death, and is typical of his later tango compositions. Its dissonances and percussive effects should come as no surprise, as it was written for the Kronos Quartet.
The disc ends with two of the Paganini 24 Solo Caprices, arranged for string quartet by the Brodsky's violist Paul Cassidy. No.6 is particularly attractive, and No.24 has some fascinating instrumental effects. The programmatic link, apparently, is that Paganini represented the instrumental "southern individualism" of the 19th century,which is viewed here through the "northern" string quartet form. A bit of a stretch, perhaps, but nonetheless a terrific CD.