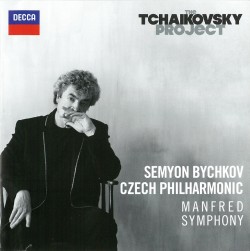 The Tchaikovsky Project – Manfred Symphony
Czech Philharmonic; Semyon Bychkov
Decca 483 2320
This CD is the second release in Decca Classics' orchestral Tchaikovsky Project that features the Czech Philharmonic and conductor Semyon Bychkov. For a lonely Romantic symphony needing advocacy, this loving version of the much-criticized Manfred Symphony (1886) is the answer. An hour long and very difficult, the work here receives extraordinary endorsements in both performance and program notes. In the Lento lugubre movement, action begins with Manfred's gloomy descending theme in B-minor, a key associated with tragedy (as in Swan Lake). The drama is well-paced, with the orchestra holding nothing back. The music of Manfred's beloved Astarte is an abrupt contrast, delicate strings in delightful interplay with enticing woodwinds. But the mood is temporary; through a controlled build-up, brass forceful but not blaring, Bychkov ushers in her climactic death.
In the accompanying booklet, Bychkov's rebuttals to criticisms of repetitiveness and episodic structure emphasize the work as drama. While he compares it to opera I think of ballet, for example in the light-on-its-feet second movement where grieving Manfred spots a water spirit; tremendously fast woodwind runs precede strings of supernatural virtuosity. In the following movement the ländler's dance rhythm along with instrumental drones portray the Alpine people's rustic life, Manfred looking on sadly. The Czechs' idiomatic playing makes me want to get up and dance! The orchestra's energy and aplomb through the bacchanal and ensuing fugue are remarkable, though only in heaven are the lovers reunited. Strongly recommended.