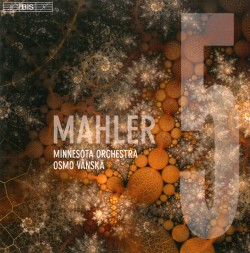 Mahler 5
Minnesota Orchestra; Osmo Vänskä
BIS BIS-2226 SACD (mnorch.org)
The conductor Osmo Vänskä has an enviable reputation as an orchestra builder, having previously transformed the provincial Finnish orchestra of Lahti into a major player with his survey of the complete works of Sibelius in an acclaimed series of recordings on the BIS label. In 2003, Vänskä became the music director of the Minnesota Orchestra and turned his attention to well-regarded box sets of the complete Beethoven and Sibelius symphonies, also on BIS. The present recording is the first in a projected series of the complete Mahler symphonies, with Symphonies Six and Two due to arrive shortly.
I must admit I was initially a bit dubious about the project; a Mahler cycle is a pro forma bid for the big leagues and a potentially ruinous gamble from entities whose Mahler tradition is often negligible. I need not have worried. As Mahler was fond of saying, "Tradition is laziness." This is a fresh-faced, supremely confident performance that cleans away many a cobweb from the customary overheated interpretations of this popular work. Vänskä lets the music flow naturally without resorting to dramatic excess at structural transitions, and his orchestra responds with admirable assurance and precision to his subtle tempo modifications. The refinement of the string section in particular is exemplary, allowing the delicate arc of the Adagietto movement to be stretched to a near-record duration of 13 minutes. Special praise is due to the experienced team from BIS for producing an exemplary, richly detailed studio recording in an age in which cheaply sutured "live" performances predominate.