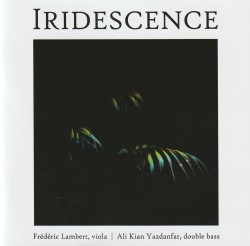 Iridescence
Frédéric Lambert & Ali Kian Yazdanfar
LM268 (leaf-music.ca)
Listen
The Fisherstreet Duo: I. Lament For Jafran
The Fisherstreet Duo II: The Barnacle and the Nautilus
Thème Varié pour Contrebasse solo: Theme. Allegro comodo
Read the Review
The reasoning behind the digital-only release from Leaf Music featuring Orchestre Symphonique Laval principal violist Fédéric Lambert and Orchestre Symphonique de Montréal principal double bassist Ali Kian Yazdanfar is that Iridescence – the variability in an object's colour when you change the viewing angle – here refers to our viewing the two instruments from a different perspective (LM268 leaf-music.ca).
The duet works are Evan Chambers' 1997 The Fisherstreet Duo, Efraín Oscher's 2008 Escenas del Sur and the 2000 three-movement Duo for Viola and Double Bass by the Welsh composer Gareth Wood.
Each player has a solo piece, completely different in style and effect. Lambert's is the quiet, contemplative in manus tuas, a 2009 work by Caroline Shaw based on a Thomas Tallis motet and originally written for solo cello, but Yazdanfar steals the show with the dazzling Thème Varié pour Contrebasse solo, a 1976 composition by Jean Françaix with variations built on trills, sixteenth notes, double stops, pizzicato and harmonics.