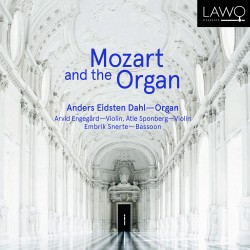 Mozart and the Organ
Anders Eidsten Dahl; Arvid Engegård; Atle Sponberg; Embrik Snerte
LAWO Classics (lawo.no)
When one thinks of Mozart, the mind can go many places, from opera to overture, sonata to symphony. One area of music with which Mozart is not often associated, however, is organ music. By all accounts, Mozart was a fine player who enjoyed the sounds of the instrument – going so far as to title it "The King of Instruments" – but the organ was not a vehicle for concertizing in Mozart's time, instead used almost exclusively in church services.
What Mozart did write for organ falls into two categories: the first is the collection of 17 "Epistle" sonatas, chamber music written between 1772 and 1780 for masses in Salzburg, played between the reading of texts; the second is music that Mozart wrote for the "Flotenuhr" – a large grandfather clock containing a self-playing organ. There are two large-scale works from this latter category that are played quite frequently today, the Adagio and Allegro in F Minor K594 and the magnificently monumental Fantasia in F Minor K608.
Organist Anders Eidsten Dahl gives a tremendous overview of this music in Mozart and the Organ, which includes 14 of the 17 church sonatas and both K594 and K608. Recorded in the Swedish Church in Oslo, Norway featuring violinists Arvid Engegård and Atle Sponberg and bassoonist Embrik Snerte, each of the sonatas is a little gem containing its own delightful character and range of expression, compressed into a miniature form. The larger organ works are wonderfully paced and expertly interpreted, and Dahl makes Mozart's challenging writing sound effortless and clear, especially in perilous passages where rapid and constant movement make great demands of the performer.
Mozart and the Organ is highly recommended to all who appreciate Mozart and organ music, whether together or separately. These works are masterpieces and well worth hearing, whether for the first time or the hundredth.