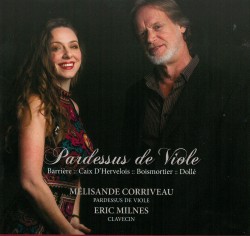 Pardessus de Viole
Mélisande Corriveau; Eric Milnes
ATMA ACD2 2729
The elegant music featured on this recording was written for a now largely abandoned instrument – pardessus de viole. This smallest member of the viola da gamba family originated in France at the end of the 17th century and had a brief life span of just over 100 years. While pardessus de viole exemplified French aesthetics and their sophisticated musical tastes and values, it was forsaken with the arrival of the Revolution, which did not stand for the same ideals. Featured composers – Barrière, Caix D' Hervelois, Boismortier and Dollé – are among many prominent French composers who wrote for this instrument at the height of its popularity. However the selection of pieces on this recording is mostly unpublished and carefully chosen from the microfilm collections of the Bibliothéque nationale de France.
What grabbed me immediately was the sound of the "woman's violin" (as it was nicknamed once upon a time) – pure, light yet robust at times, textured as a crossover between the flute and the violin. Mélisande Corriveau elicits an array of emotions out of her instrument. The virtuosic passages in Jean Barrière's Sonata in G Major suit her very well but she is equally colourful in depicting the feelings of sorrow in Dollé's Les Regrets. Eric Milnes is a resourceful and imaginative harpsichord player; together they offer a charming array of ornamentations, making this music a gesture of nobility from the past.