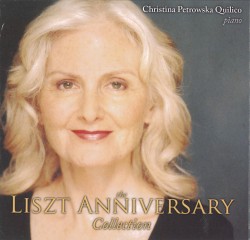 The Liszt Anniversary Collection
Christina Petrowska Quilico
Welspringe Productions WP011 (www.indiepool.com)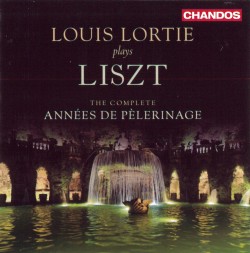 Liszt - The Complete Années de Pèlerinage
Louis Lortie
Chandos CHAN10662(2)
Is it true that women used to vie for a lock of Franz Liszt's hair? Justin Bieber move over! In any event, it seems particularly appropriate that this being the 200th anniversary of his birth, we have not one, but two new releases devoted to piano music by the Hungarian virtuoso, and both of them performed by Canadians.
Ottawa-born Christina Petrowska Quilico studied at the Royal Conservatory, and later at the Juilliard School. Since then, she has earned a reputation as an exceptional and innovative teacher and performer, with a particular dedication to music by contemporary Canadian composers. Nevertheless, in her newest CD, titled "The Liszt Anniversary Collection" on the Welspringe label, she returns to the 19th century, with selections spanning Liszt's entire career. True to form, her playing is polished, self-assured, and technically flawless. But what I find most appealing about this recording is the wonderful variety achieved within the carefully chosen programme. Well-known favourites such as La Campanella (as transcribed by Busoni) and the concert étude Un Sospiro are here, but also included are less familiar pieces, such as Wiegenlied, En rêve, and Nuages gris. These smaller works dating from Liszt's late period are quietly introspective, and stylistically point to the 20th century. Petrowska Quilico treats them with a wonderful delicacy, adeptly proving that Liszt is not all bravura and showmanship!
More gargantuan in scale is a new Chandos double-disc set by Louis Lortie featuring the entire Années de Pelèrinage, including an addendum to the second set, Italie. Lortie has made a considerable name for himself since winning first prize at the Busoni Piano Competition in 1984, and a major prize at the Leeds Competition... Now based in Berlin, he continues to enjoy international fame through concerts and recordings. The three sets of Années – based on Liszt's voyages to Switzerland and Italy - are gigantic in scope, and I would deem few pianists are able to interpret this music convincingly. Needless to say, Lortie does so brilliantly. As befits this repertoire, his approach is bold and impassioned, demonstrating a herculean technique. The Vallée d'Obermann from the first set presents technical challenges that would make the average pianist wince, but Lortie brings it off with aplomb. On the other hand, his treatment of such pieces as the Sonetto 47 and 123 from the second set, Italie, is elegantly understated. Bringing the disc to a rousing conclusion is the flamboyant Tarantella, music requiring almost superhuman powers. Is it any wonder that Liszt was sometimes regarded as Mephistopheles himself?
In all, two exemplary recordings which together comprise admirable recognition to Liszt's bicentenary.