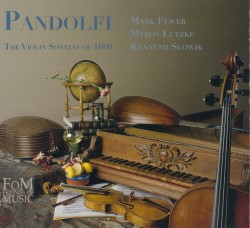 Pandolfi - The Violin Sonatas of 1660
Mark Fewer; Myron Lutzke; Kenneth Slowik
Friends of Music FoM 36-802 (www.markfewer.com)
Though little is known about the 17th century Italian violinist and composer Giovanni Antonio Pandolfi Mealli, his two marvellous collections of sonatas for solo violin and continuo place him squarely in the good company of Dario Castello, Biagio Marini, Tarquinio Merula and others of what we might call the first generation of sonata-writers. Unlike the Classical multi-movement form, instrumental sonatas of the early to mid-17th century are usually in one extended movement, full of changes of mood, tempo, articulation and musical ideas. As such, they are dramatic and full of possibility for an imaginative performer. In his excellent liner notes accompanying this recording, harpsichordist Kenneth Slowik comments on how operatic these pieces are; that they could in essence be seen as instrumental "scenas" full of passion and pathos.
We should be tremendously grateful to the Friends of Music at the Smithsonian for supporting this recording and making it possible. Mark Fewer is one of Canada's finest violinists and is possessed with a profound and open musical mind. It's rare to find a player as comfortable in such a wide variety of musical styles as Fewer is. He tucks into these sonatas with wild abandon, though never loses sight of the good taste and stylistic know-how needed to approach this "early" music. His range of virtuosic and tender playing makes this disc of twelve sonatas an absolute pleasure to listen to from beginning to end. He's ably supported by Slowik and cellist Myron Lutzke, though I did feel at times that the continuo colour could have been enhanced by the presence of a theorbo.